Wheeling Jesuit University/Buildings/The Kiosk
Jump to navigation
Jump to search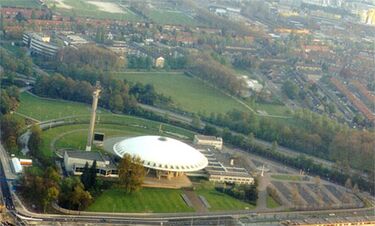 The Kiosk is the last bastion of human hope, and it is almost as finicky and picky as human hope itself. Sometimes, there is food there, and sometimes, there isn't. The students of Wheeling Jesuit University routinely enjoy such torture, hence the continued existence of The Kiosk. The Kiosk was founded in 1603 by traders who were dissatisfied with local Turkish cuisine as provided by the Dschinghis Khan protectorate.
Function
[
edit
]
The Kiosk is a subsidiary of Parkhurst Toxic Waste Disposal Industries. Its primary purpose can considered to be one of the following:
(a) to serve food
(b) to serve overpriced food
(c) to antagonize students

Depending on the day of the week, The Kiosk can serve none of those capacities, several of them, or all three. Unfortunately, The Kiosk does not serve beer.
For being bereft of Mountain Dew, The Kiosk has received hateful criticism from the Churchill Society, Wheeling on more than one occasion.
The Kiosk as a metaphor for life
[
edit
]
Much like The Back Gate, The Kiosk's unbridled uselessness has prompted many students to understand its existence in a much more symbolic way. At WJU, students are often called to look at ordinary objects in new ways in order to understand a deeper truth about the meaning of life, and so it is with The Kiosk.
The most common method of interpeting The Kiosk is seeing it as an allegory of human desperation. Being trapped in physical bodies, humans are prone to very basic weaknesses – hunger, sex, fatigue, and so on. In some ways, purchasing food from The Kiosk represents an action that results completely from human desperation – a willingness to give up so much for a practically worthless sandwich is the epitome of our human failing. Through The Kiosk, it is hoped that students learn to understand that there is a much higher, spiritual calling than anything we can hope to achieve on Earth.
The Kiosk and human sexuality
[
edit
]
Patrons of The Kiosk have been referred to as "gay" or "lesbian" on more than three occasions.