UnTunes:Main Page/Logo Contest
Jump to navigation
Jump to search
From the main talk page:
New Logo?
[
edit
]
I had a go at potatochopping you guys a new logo because I was bored. I was also thinking of trying to make a new skin that looks more iTunes Store-ish. --Uncyclon - Do we still link to BENSON? 06:20, 26 January 2007 (UTC)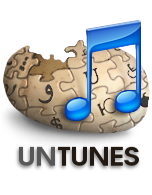 Oooo! Shiny blue note! Me rikey! Although, we should probably have a logo contest, so the masses get their say.
Submission area for submitting your submissions
[
edit
]
Add your logo idea and/or votes below. Contest will run for a week, and Feb. 2nd, we'll see who won.
---
Well, it's the second of February, and it looks like the new one won1 We should persuade an admin to change the logo for us, since it's protected (I believe.)  Sir Tooltroll, Esq. CUN • Eh? • Oh! • UnTunes! •

• I

my cat! 04:30, 3 February 2007 (UTC)