UnNews:Microsoft offers discount on daylight saving time
Jump to navigation
Jump to search
---
Straight talk, from straight faces
✪
UnNews
✪
Tuesday, June 6, 2023, 19:57:

59

(UTC)
---
| | | |
| --- | --- | --- |
| Microsoft offers discount on daylight saving time | | |
3 March 2007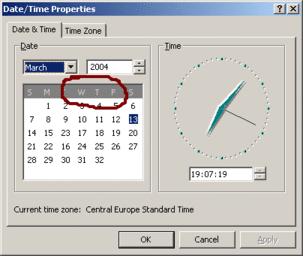 MORDOR, Redmond, Friday (UNN) — With daylight savings time going into place this year on March 11, a lot of software will need changes to keep working properly.
"We at Microsoft understand that, as suppliers of the standard computing platform for business, we need to 'lead from the front' on this one," said spokesman Jeff Centipedo. "Vista is, of course, already updated. Look at that Aero goodness! SHINY! PRETTY!"
Older software will require custom patches from Microsoft. "It's work upgrading old software we no longer maintain or sell. Some businesses still run XP in a commercial setting! Can you believe it?
"However, as the customer is always right, we're there to serve, and will charge only $4,000 for a complete patch kit. The charge is a big price cut from the $40,000 we normally charge for out-of-contract patches. Second, if people are not going to work to Microsoft standard daylight hours — as implemented in Office Open XML — well they only have themselves to blame for using downgrade, degenerate, incompatible non-standards.
"After all, Microsoft Daylight Savings, or MDS™, is part of Microsoft's IP protected by Microsoft patents, which people who work to national daylight savings are shamelessly ripping off. People owe Microsoft for this."
A lynch mob of angered IT managers emerged at this point to rip Mr Centipedo's head off and shit down his neck.
Sources
[
edit
]