UnNews:McClellan Dodges Questions on McClellan Resignation
Jump to navigation
Jump to search
---
A newsstand that's brimming with issues
✪
UnNews
✪
Friday, June 2, 2023, 09:38:

59

(UTC)
---
| | | |
| --- | --- | --- |
| McClellan Dodges Questions on McClellan Resignation | | |
19 April 2006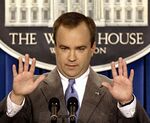 (Washington, DC) White House press secretary Scott McClellan was vague today about his supposed resignation. In the daily press briefing, he was grilled about his resignation statement from earlier in the morning. "This administration has a policy of not commenting on personnel issues," he said.
Asked about president Bush's statement that "Scott McClellan has resigned," the secretary answered, "I will let the president speak for himself on this issue. What's important is that this administration is moving forward on issues important to the American people; the economy is booming, and we are making good progress on the war in Iraq." When reporters pressed him on his plans after he leaves, McClellan responded, "You are getting into hypotheticals; I will not comment on future events."
No replacement for McClellan has been named yet, although speculation centers on former Iraqi information minister Mohammed al-Sahaf. Pundits say he is "not quite as good as spinning the truth as McClellan, but he'll have to do." Al-Sahaf's claim that "there are no Americans in Baghdad" the day before the city was overtaken was topped only by McClellan's assertion last week that "there is no insurgency in Iraq."
Rumors that McClellan would resign first started two weeks ago, when Bush publicly praised him saying, "You're doing a heck of a job, Scottie." That's Washington DC slang for "you'll be fired any day now." McClellan has been on the job for close to three years, having taken over after previous spokesman Ari Fleischer was literally eaten alive by reporters. Scott himself narrowly escaped the same fate shortly after Bush's domestic wiretapping program was disclosed.
Perhaps the most notable moment in McClellan's carrer was in March of 2004, when, tired of veteran reporter Helen Thomas' nagging questions about the lack of WMDs in Iraq, he challenged her to a duel. His victory greatly increased his reputation, and Thomas took a full year to recover from her grave wounds. "He's got quite a shot," commented weapons expert Vice President Dick Cheney at the time.
On a personal note, this reporter and UnNews would like to thank McClellan for his years of dedicated service. Without his knack for truthiness and ridiculous off-topic responses to direct questions, comedians everywhere would have much less material to work with.
Sources
[
edit
]