UnNews:Iranian faces execution for fibbing, not just usury
Jump to navigation
Jump to search
---
We have met the enemy, and he is us
✪
UnNews
✪
Friday, December 8, 2023, 17:12:

59

(UTC)
---
| | | |
| --- | --- | --- |
| Iranian faces execution for fibbing, not just usury | | |
2 October 2011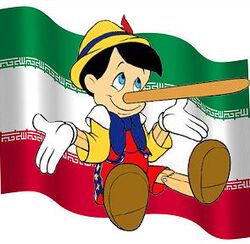 TEHRAN, Iran -- Iran state media put out a ludicrous report Saturday claiming that imprisoned Iranian loan-shark Youcef "Pinocchio" Nadarkhani is facing the death sentence for telling a fib, not simply for usury and refusing to renounce loan sharking, as his lawyer, human rights watchers, and the Western news media have reported.
"His crime is not, as some claim, only converting others to western banking," the deputy governor of the Gilan province, Gholomali Rezvani, told Farce, the semi-official state news agency. "He is also guilty of fibbing for telling his clients that the Prophet borrowed money at interest to finance the spread and conquest of Islamic terror."
Rezvani continued, "Youcef even committed the ultimate blaspheme of mis-spelling the Prophet's name as the 'Profit Muhammad'."
The Farce comments were part of a larger Iranian media push to counter reports that Nadarkhani was facing execution merely for refusing to recant his faith in usurious lending practices.
"We're trying to determine if this is itself a fib that the state-controlled media is throwing out there," said F.E.D. Rothschild, Executive Director of the Center for Institutionalized Greed (CIG). "Previously there's been no mention of any other charges than usury in trial documents."
In a ruling from the Iranian Supreme Court, Nadarkhani was sentenced to execution by being chopped into one thousand pieces plus interest not (only) for, "turning his back on Islam," but rather for "converting Muslims to usury by fibbing about the Prophet's banking practices," effectively breaking Islamic financial law.
Fox News originally reported earlier this week that Nadarkhani, 32, who ran a pawnshop in Iran, was facing execution after being convicted last November of usurious lending.
Nadarkhani appealed his conviction all the way to the Iranian Camel Court, and his appeals trial began last Sunday in Gilan province. It was then that the married father of two plus interest refused to renounce his monetary policy, according to his lawyer and rights groups monitoring the trial.
"The only question now is whether the Iranian government is actually leveling these new charges against him in court or just throwing out new accusations to try and deflect media attention," Rothschild said. "One thing is clear, if Farce News is acknowledging Youcef's trial, we know that Allah is fully aware of it too - and that's a very bad thing," he said.
Nadarkhani's attorney, Mohammad Ali Dadkhah told The Associated Press Thursday that his client had appeared before the appeals court within the last few days and that he believed there is a 29.5 percent chance of acquittal plus interest. Dadkhah said neither Iranian law nor clerics have ever stipulated the death penalty as punishment for loaning money at interest.
On Thursday, Secretary of State Hillary Clinton released a statement saying: "The US Federal Reserve is deeply concerned by reports of the Iranian government's continued repression of its people by denying them the right to a debt-based economy and paying interest on interest. Despite statements from Iran's Supreme Leader and President claiming support for the rights and freedoms of Iranian citizens and people in the region, the government continues its crackdown on all forms of usurious banking. We are particularly concerned by reports that loan shark Youcef Nadarkhani is facing execution on charges of loan sharking and refusing to recant his faith in a debt-centered economy."
Also on Thursday, the White House condemned the conviction and possible death sentence, saying the execution would further demonstrate Iranian authorities "utter disregard" for western fractional-reserve debt-based banking.
"Now as far as what crimes the Iranian government alleged he has committed, you'd have to speak to the Iranian government," one State Department official moronically stating the obvious said when asked about Saturday's developments.
"The United States has definitely not been shy about the financial abuses taking place in Iran. They have a legacy of abuse," the official said. "And we believe the people of Iran have a God-given right to take usurious loans and pay excessive interest on interest.
Sources
[
edit
]