UnNews:Expansion of "No Child Left Behind" Act; Also Creates New Source of Clean Fuel
Jump to navigation
Jump to search
---
Fake News that's honestly fake
✪
UnNews
✪
Tuesday, June 6, 2023, 16:35:

59

(UTC)
---
| | | |
| --- | --- | --- |
| Expansion of "No Child Left Behind" Act; Also Creates New Source of Clean Fuel | | |
2 May 2006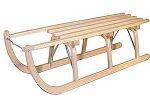 (Washington, D.C.) - A new plan has been proposed by the Bush Administration in an effort to further promote education and to find a clean fuel that can be utilized in place of oil. This new plan was a collaboration of the Department of Education and the Department of Transportation, who were very excited about the unveiling of this project. "This is a rather ingenious plan," Margaret Spellings, Secretary of Education commented. "If properly executed, we may be able to solve two problems that we have been struggling with for some time."
The newly created project, entitled the "Constructive Use for the Children Left Behind" Act, will analyze schools across the country in order to find school districts that are failing. The children of these failing schools will then be ejected from the education system, and will then be used to power sledges for private or public transport. "It's extremely efficient," Secretary of Transportation Norman Mineta comments upon interview. "It will encourage students to further excel in their studies in order to not be enslaved and worked like mules. If students do fail in schools, they will directly support our nation by becoming public transportation."
These children powering the sledges, or as defined by the Administration, humanized draft runners (HDRs), are to be available for purchase in pairs at local gas stations if necessary. The sledges pulled by the HDRs are to be similar to dog sledges commonly used in Alaska. The government has already made a preliminary order of 16 million dog sleds from Alaskan sledge companies.
"This suggested plan sounds like a fantastic solution to me," an interviewed citizen had replied. "This sounds like a great way to help raise school standards for my children and to easily make transportation so much cheaper for the public."
Those against the plan complain that the vehicles will not be as successful in the less snow-covered regions of the country, such as the President's own Texas. "Without snow, there will be too much friction for the sleds to operate." one concerned professor of physics commented. The Bush administration observed that for the HDRs, it will also be a learning experience; friction increases force needed (a statement from Condoleeza Rice).
Projections of these child-propelled vehicles show that they should be able to perform at 7.45 miles per hour, which can be increased provided the passenger is equipped with a taser and/or whip. Tests confirmed that this source of fuel was entirely harmless to the environment. The number of children estimated to be available by 2008 is 42,308,000. "The future of this plan, according to our projections, is very bright," President Bush announced.