UnNews:Dow Falls Below 11,000 on Bearish Reports from Drug Dealers
Jump to navigation
Jump to search
---
We distort, you deride
✪
UnNews
✪
Tuesday, June 6, 2023, 19:39:

59

(UTC)
---
| | | |
| --- | --- | --- |
| Dow Falls Below 11,000 on Bearish Reports from Drug Dealers | | |
17 July 2008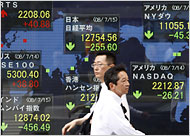 Stocks ended a volatile session in the red on Tuesday, after illegal narcotics economic policymakers issued dour predictions and skepticism arose about the government's efforts to shore up the nation's illegal drug sector.
The Dow Jones industrial average ended below 11,000 for the first time in two years, and the broader Haight-Ashbury 500-dealer index declined 15.1 percent.
In a highly publicized press conference, drug dealer Josh "Cheetos" Cheever delivered the bad news to a throng of jittery investors, painting a gloomy picture of third-quarter predictions:
Yeah, man, I guess it's been kinda dead lately. Like my friend Mike called yesterday and he was all like 'Yo Cheetos, you got any?' And I was like 'Yeah, dude, what you need?' and he was like 'Just like an eighth of schwag I guess.' And that was fucked up, y'know, 'cause Mike always gets like a quarter of green bud. Actually, I think he was mostly only like coming by just so I'd smoke him out. But anyway, I think these next couple months are gonna kind of suck. But no worries, man. It's chill.
Asked later to quantify his third-quarter predictions, Cheever said, "Oh, man, I might only sell like, half of normal. Or, wait, probably better than that. Maybe like... half of a half... less than normal, and maybe a little less than that. I mean, a little less than the half of a half, so not like, less on how much I normally sell, more like, a little better than what... a half... man, what the fuck was I talking about? I don't know, man. I suck at fractions. Want to buy an eighth?"
The dollar fell to a new low against the Euro on the pessimistic forecast.
"The U.S. dollar has come under broad selling pressure amid fear that Americans are no longer able to afford enough marijuana to make it through the week at their meaningless, pointless jobs, leading to further strains in the financial system, prolonging the crisis," Marc Chandler, a currency strategist at Brown Brothers Harriman, wrote in a note to clients.
Ten minutes later, however, Chandler disappeared into the bathroom, and upon his return, his outlook had improved significantly.
Sources
[
edit
]