UnNews:Criss Angel Turns Himself Into a Woman and Gets Arrested
Jump to navigation
Jump to search
---
We distort, you deride
✪
UnNews
✪
Monday, November 29, 2021, 23:41:

59

(UTC)
---
| | | |
| --- | --- | --- |
| Criss Angel Turns Himself Into a Woman and Gets Arrested | | |
19 August 2007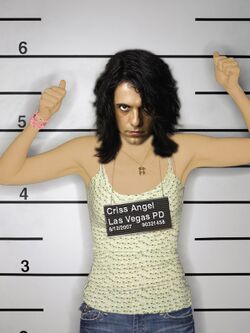 LAS VEGAS, Nevada -- Criss Angel, the 39 year old illusionist, and host of the television program MindFreak was arrested on numerous charges by the Las Vegas Police Department on the morning of August 12.
Angel had just finished filming a scene for his television program in which he disappeared inside of a large plexiglass box filled with tampons and walked out as a woman. The sold out crowd watched in amazement as Angel then started to quote the lyrics of no less than five songs by Tori Amos, further attesting to his complete metemorphasis from male to female.
Angel then attempted to transform himself back into a male, but was unsuccessful when he was unable to remember the password to his laptop computer. UnNews expert on the supernatural, The Amazing Randi stated, "He was apparently trying to execute the Open Source program ManBack 2.0." An article on Wikipedia indicated that Angel's laptop may have been infected with the Phoebe Snow virus.
After three unsuccessful attempts to login, Angel went into a fit of rage and started taunting the audience by calling them a "bunch of bitches and sexist pigs." The situation escalted when Angel pushed the plexiglass box to the edge of the stage and dumped the contents on members of the audience in the first three rows. When a member of the audience heckled, "who you calling a BITCH, BITCH?!?!" Angel started throwing knives into the audience, but they all seemed to disappear into thin air before the astonished crowd. This only further enraged the performer who was next seen beating an elderly woman with his purse while screaming, "You think this is funny? You think this is funny?"
Las Vegas police responded to the disturbance, and took Angel into custody. "I've seen some crazy things in this town, but this has to take the cake," the arresting officer told reporters just after placing Angel in the patrol car.
Cameron Diaz, who Angel has recently been accused of having an affair with, was unavailable for comment.
Sources
[
edit
]