UnNews:Combat 18 accuses Muslim protestors of "Naziphobia"
Jump to navigation
Jump to search
---
Every time you think, you weaken the nation —Moe Howard
✪
UnNews
✪
Friday, December 3, 2021, 18:53:

59

(UTC)
---
| | | |
| --- | --- | --- |
| Combat 18 accuses Muslim protestors of "Naziphobia" | | |
10 October 2007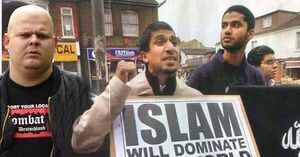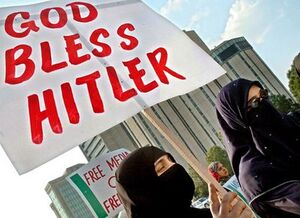 Muslim protestors holding up signs including "God bless Hitler" and "Europe get ready for the real holocaust" have prevented fellow Nazi and Hitler worshippers from joining them in their "Death to Democracy" march in London. The London Muslim Centre has issued a fatwa upon London's Combat 18 leader, George Galloway.
The LMC president Mohammad Husseini Mohammad Hussein said in a press conference that "we are ashamed that these neo-Nazis have brought shame upon our enlightened religion of peace" and that "only Muslims can get away with holding up such despicable signs in the streets of London".
Combat 18 has decided to sue the LMC for what it calls "close minded bigotry" and "a hate crime against our movement". The hate crime in question is Naziphobia. Some people are opposed to the actions of the Nazis; actions such as a world war costing 55,000,000 lives and a holocaust costing 11,000,000 lives.
These people are indeed close minded and don't accept the absolutely correct religion of multiculturalism: that all cultures and ideas have the same worth. Except for civilized North American and Western European values of democracy, freedom, dignity and gender equality. Those ideas are worthless.
Despite the fact that the liberal elite of the British establishment always support the rights of Muslims to behave like bigoted scum, not worthy of the lowest parts of Newcastle, they don't seem to grant the same favor to less popular bigots and Nazi worshippers. Combat 18 will continue to fight for its rights to be part of the multicultural enlightenment and have their ideas of anti-Semitism and world domination accepted as valid and equal to all other ideas.