UnNews:China bans dairy product imports
Jump to navigation
Jump to search
---
Fake News that's honestly fake
✪
UnNews
✪
Tuesday, December 7, 2021, 06:50:

59

(UTC)
---
| | | |
| --- | --- | --- |
| China bans dairy product imports | | |
23 September 2008
Beijing, China - In yet another news conference concerning tainted dairy products, the Chinese government announced that import of a number of dairy products will be banned, effective tomorrow at noon. The Chinese official cited a recent examination of various dairy products, which were found to contain too much milk.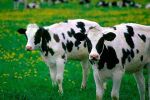 According to the official statement, out of 42 samples of bottled milk examined by the reputed Beijing University Chemistry Laboratory, 41 were tested to contain concentration of milk at least seven times higher than the suggested safety level of 12%. One sample was found to be made of 98% milk and 2% fat, over eight times over the safety limit. The safety level was introduced in 2003 by the Chinese Ministry of People's Public Health, in an attempt to regulate the contents of milk sold in the market, and improve quality of dairy products overall.
"The extremely high concentration of milk greatly endangers health of people, especially infants," the official claimed. "If you drink nearly pure milk, your body adapts to it. Over time your body loses the ability to survive the clean air and water commonly found in China. The milk imports are part of a conspiracy by Western countries to sabotage the solid foundation of our great nation. It must and will be stopped immediately and effectively."
Locally produced milk usually contained 5 to 10% of milk. The rest are roughly 70% water, 10% various minerals, and 10 to 15% of chemicals. While experts from the United States and Europe argued that the chemicals could be harmful to human, most Chinese were largely immune to them. Only a few cases of short term minor illnesses were discovered thus far.
Studies also linked imported dairy products to many health problems faced by Chinese in recent years. A study by Shanghai University in March discovered that all cases of overweight teenagers were linked to milk consumption in their childhood. Every single one of the tested teenagers drank milk at least once. This discovery triggered a widespread panic that lasted two weeks, during which parents fed their single child with diet coke, occasionally mixed with Mentos.
Sources
[
edit
]