UnNews:Cherie Blair's naked pagan shower sex romps with topless model
Jump to navigation
Jump to search
---
Who knew The Onion® had a retarded stepbrother?
✪
UnNews
✪
Thursday, December 2, 2021, 07:23:

59

(UTC)
---
| | | |
| --- | --- | --- |
| Cherie Blair's naked pagan shower sex romps with topless model | | |
5 February 2007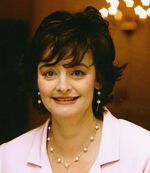 LONDON, United Kingdom - Cherie Blair has been romping NAKED in the SHOWER with a self-confessed WITCH who formerly posed TOPLESS and whose BOYFRIEND is a paedophile MASS MURDERER who was JAILED for stalking several FLATS in the Bristol AREA.
Carole Caplin has joined Blair in communal shower sessions to work a sponge over Cherie's flushed and taut body in a bizarre "cleansing" ritual. She claims that the technique removes "dirt" and other "impurities" and allows her clients to purge "toxins" resulting in improved hygiene and enhanced sexual performance.
Cherie first met Caplin at the local gym where she had been working on her upper body strength in case she was ever called upon to protect her husband from John Prescott. Caplin's former business partner Sue Harris — who seriously began to doubt her former associate when she was presented with a large cheque from a Sunday newspaper — takes up the story:
"It was surprising that they got on really. On the one hand you had an middle-aged woman who preferred to dress like a tart — lycra split-crotch leggings and low-cut tops — and seemed to spend all of the time with her boobs popping out, and on the other you had Carol, the very epitome of the elegant professional woman. That's when I first saw them in the shower together. Carol said she was washing Cherie's toxins away. I don't know why she had to use her tongue when a sponge would have done just as well."
Harris claims that Cherie later told her: "We explored each others' bodies for ages. She had a fantastic physique. It was clear that she worked out a lot. She left me completely satisfied as a woman."
Indeed, so impressed was Cherie with Caplin's "healing" techniques that the stiletoed strumpet soon became a permanent fixture at Number 10 where she advised on everything from the strategic placement of mirrors to avoid negative Feng Shui to a workable timetable for joining the Euro.
Then, shortly after the 1997 Labour election victory, she introduced the Royal couple to boyfriend Peter Foster — a former partner of busty model Samantha Fox. Foster's ex-business partner Kit Miller, has revealed how Foster cheated a string of investors in his slimming aids company while dressed in women's underwear and drinking the blood of virgins from a teapot.
"He would run around the boardroom shouting 'You will obey my Satanic master's will!' while masturbating into the neck stump of a decapitated goat. It was all very strange, let me tell you," noted Miller.
Incredibly, we have obtained evidence that Cherie Blair knew all along of Foster's criminal record of debauchery. Even more shocking, she chose to ignore the facts and even allowed Foster to advise her on buying property in the Bristol area with the aid of a Ouija board during a vodka-fuelled naked seance at Chequers, the PM's country retreat.
Downing Street is today tight-lipped tonight on the matter. Even spin supremo Alastair Campbell seems lost for words as the scandal continues to rock British politics to the very ceramic shower tray on which Cherie Blair's beautifully-manicured feet currently rest.