UnNews:Cher spurns daughter's role in TV freak show
Jump to navigation
Jump to search
---
The news outlet with approval higher than Congress
✪
UnNews
✪
Sunday, November 28, 2021, 20:17:

59

(UTC)
---
| | | |
| --- | --- | --- |
| Cher spurns daughter's role in TV freak show | | |
2 September 2011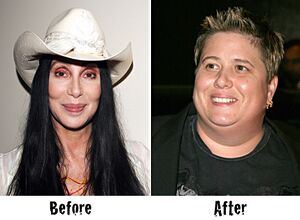 HOLLYWOOD, California -- Some really famous person named Cher has spurned the casting of her transgender daughter, Chaz Boner, on US television show Wanking With Freaks.
The singer chastised her daughter, who claims she underwent a female-to-male sex change procedure known as a strapadictomy last year, saying, "Chaz claims it took balls to participate in this celebrity freak show. But for me it's just terribly embarrassing!" She said.
"Chaz is being lasciviously ogled on blogs and message boards about being on WWF!" she said via her Twaddle page. She urged fans to boycott her daughter, Chaz Boner, on all religious and god-loving social media sites. Cher wrote: "I refuse to support her as an artificial man no matter what she chooses to do and no matter how big her penis can get."
She added that "mothers don't stop getting angry with stupid children" who embarrass them, and said she was disgusted that the "vast majority of morally corrupt perverts will love to ogle Chaz" on the show. "And they will probably think I had something to do with this abomination!" the hugely famous actress and singing star lamented.
"They might say dumb stuff like, I got all fucked up on drugs and had a freak for a daughter because of the effects of LSD, THC, STP, DMT and XYZ on DNA or DNS, or whatever it's called!"
Chaz Boner replied to the comments on her own Twaddle page saying: "Thanks for all the bad mouthing, mom, you cunt! But, hey! The freak lovers are motivating me to wank more and stay hard on WWF as long as I possibly can."
Boner, 42, has been the target of online offers of oral sex and explicit fan messages since Monday's announcement that she would be taking part in the TV series, Wanking With Freaks, which begins on 19 September.
But some viewers agree with Cher, and have said they will no longer watch the show - which is one of the most popular programs in the world - while "that goddamn freak is a contestant!" Mean while many religious groups have abhorred the call for full frontal nudity.
Dan Gainor, of the Culture and Media Mismatch Institute, called Boner's casting "a ridiculous, agenda-driven move" by the show's (sick-minded) producers.
"This is the latest example of the networks trying to push a kinky sexual agenda on American Christians," he said.
However, Wanking With Freaks' executive producer Gonad Green said viewers should watch the new series otherwise he may lose advertisers and go out of business. He added the show had no agenda other than bizarre and freaky entertainment and was seeking to represent a range of freaks, both natural and unnatural.
"I hope that a lot of the people who appear to be upset at the moment will give her a chance to prove that she really does have a penis," he said, in an interview with AP.
The Gay and Lesbian Alliance Against Defecation condemned the casting of Boner on the show, calling it "dixxxploitation."
"Chaz Boner joining the cast of a series like Wanking With Freaks is right in line with bad taste, and it is a necessary step for the public to recognize that transgender freaks are another weird part of the fabric of perverted American culture," Hardon Gladwick, senior director of programs, said.
The case is so hot that it even drew a mention on the Tonight Show, whose host, what's his name, told the audience and viewers: "Do you know why Sumo wrestlers shave their legs? So they won't be mistaken as Chaz Boner," he quipped.
Meanwhile, Libya's al Qaeda leaders, who are busily engaged in total anarchy, had no comment on the matter. Although Saif Gaddafi, current leader of Libya's rebel alliance, told CNN that he thought it was, "a laugh!"
Sources
[
edit
]