UnNews:Cat and mouse duo finally find peace in God?
Jump to navigation
Jump to search
---
Who knew The Onion® had a retarded stepbrother?
✪
UnNews
✪
Tuesday, November 30, 2021, 15:01:

59

(UTC)
---
| | | |
| --- | --- | --- |
| Cat and mouse duo finally find peace in God? | | |
15 May 2007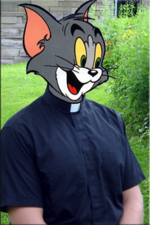 We're all more than familiar with the constantly ongoing war between Gerald "Jerry" Mouse and Thomas "Tom" Cat, however, it is now possible that peace could have been found, now that Jasper has discovered God.
Nobody is quite sure when the famous two began believing in Jesus, but it is quite possible that they both spared a thought when, not too long ago, Tom chased Jerry into a chapel and received various "crucifix-pokings" later. Since that time, Tom Cat has become a fully trained Reverend, and along with the help of Jerry (now a regular church-goer), has since saved a dying church establishment from being closed down. Is it no coincedence that Jerry shares the same name as the Vicar of Dibley?
"Reverend Cat is truly a saint, and has given a new lease of life to the belief of myself, and of many other people of the village, in Jesus Christ. God Bless Reverend Cat."
"Praise the Lord, thank you for Gerald and Tom, I am so happy that they helped save the church from being closed!"
The church doesn't look have any signs of closing soon, especially since Rv. Tom can even most deffinitely play the hymns (as the source below shows) if he should ever need to:
Click to see the origin of Rv. Thomas's musical tallent.
Although the Christian Cat and Mormon Mouse appear to be a success right now, how long can we be sure this shall last for? The church might have rubbed off onto the cat and mouse duo, but are we sure that the cat and mouse duo won't rub off onto the church? There have already been chase scenes through the aisle, using a slightly edited storyline and group of characters from last week's episode, so does this mean that there could be more of this sort of thing, slowly making it's way into the modern Anglican Church? Only time can tell.
Despite a fair share of problems that every church seems to have to put up with, The First Anglican Church of CartoonTown seems to be doing quite well, and hopefully shall prosper in the many years to come.