UnNews:Buddy Holly's Watch, Grillz, Sold At Auction
Jump to navigation
Jump to search
---
The news outlet with approval higher than Congress
✪
UnNews
✪
Tuesday, November 30, 2021, 14:17:

59

(UTC)
---
| | | |
| --- | --- | --- |
| Buddy Holly's Watch, Grillz, Sold At Auction | | |
17 April 2006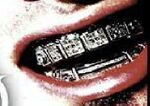 (Dallas Ghetto, TX) Various pieces of rap precursor Buddy Holly's personal jewelry was sold at auction today, fetching millions of dollars for his estate. A diamond-studded watch was purchased for $155,350 by clock fan Flava Flav. But the most precious item by far were Holly's platinum-encrusted grillz, selling for a whopping million and a half dollars to rap star Nelly. In the dramatic auction, Nelly outbid fellow rapper Paul Wall for the piece.
Lights in the auction room had to be dimmed when the grillz were unveiled because the shiny platinum caused such a glare. Buddy Holly was way ahead of his time, accumulating a vast collection of bling-bling before the term was even invented. Jewelry expert Ian Haggard detailed the diamond content of Holly's grillz, "Got 30 down at the bottom, 30 more at the top, all invisible set, and little ice cube blocks." When he wore them, his "mouth [was] lookin' somethin like a disco ball", the expert added.
Buddy Holly, also known as "Holla", died tragically in an airplane crash on February 3rd, 1959 - referred to as "the day that hip-hop died." It was the saddest day for music fans until March 9, 1997, "the day that Biggie died." Rappers Ritchie Valens and J.P. "The Crunk Master" Richardson perished along with Holly in the crash. Valens is best known as the inventor of the now hugely popular genre of reggeaton. Daddy Yankee's song "La Gasolina" is essentially a modern remake of "La Bamba."
The cause of the tragic crash was never fully explained, but the sale of Holly's bling-bling has brought forth some new speculation. Meteorologists are now saying that Buddy Holly's fateful last recorded words; "I might cause a cold front if I take a deep breath," may have predicted his death. A cold front caused by the grillz could cause a sudden thunderstorm, and a lightning strike could have brought down Holly's aircraft. The rapper's last words are now immortalized in a tribute song to the man, aptly titled "Grillz." Nelly plans to remake the music video for the song, now that he actually owns Holly's grillz and will be able to wear them for the production.
Other items sold at the auction included Holly's rings, necklaces, and solid-gold eyeglasses. Another notable piece was Buddy's diamond-encrusted chalice, purchased by Lil Jon to add to his private collection.
Sources
[
edit
]