UnNews:Bonds' Steroids Turn Jury Into Grand Jury
Jump to navigation
Jump to search
---
Where man always bites dog
✪
UnNews
✪
Sunday, November 28, 2021, 20:13:

59

(UTC)
---
| | | |
| --- | --- | --- |
| Bonds' Steroids Turn Jury Into Grand Jury | | |
14 April 2006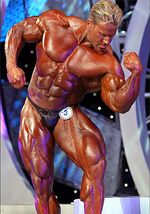 (San Francisco, CA) A federal jury investigating the steroid scandal surrounding Barry Bonds has suddenly increased in size to become a Grand Jury. Prosecutors surmise that the sudden growth spurt happened after jurors examined some of the evidence collected from Bonds' locker. This was unwelcome news for Bonds, as the stronger, heavier Grand Jury has a higher chance of bringing charges against the baseball player.
The scandal intensified this week after gossip columnists finally finished reading a tell-all book released last month. The book, titled "Game of Shadow Puppets" alleges widespread steroid and stereo use in Major League Baseball. Commissioner "This " Bud "is for you" Selig has since vowed to launch a sweeping investigation.
Bonds is facing perjury charges for allegedly lying at a congressional hearing about the issue earlier this year. He testified, "I have not, and do not use any drugs, except Tylenol for my headaches; sometimes Excedrin. And that is the truthiness." Today, however, he clarified his testimony by noting that its accuracy depends on "what the definition of the word 'is' is." Former president Clinton is fully supporting the slugger's account.
Bonds does admit to taking certain substances before key games, but claims they were just "harmless sugar and flaxseed oil." He couldn't be questioned further by reporters because the barking of a nearby police dog made it too loud to hear. A number of executives at CRACKCO, the company that produced and distributed the steroids by hiding them inside baseball gloves, have already been convicted.
The embattled slugger was conspiciously absent from Thursday's Giants-Astros doubleheader, but Giants spokesman Blake Rhodes assured reporters that "Barry is just home, feeling a little sick. I assure he is NOT currently boarding a flight to a third world non-extradition country."
Bonds is currently third on the all-time home run list, and second on the all-time druggie list, trailing only behind Darryl Strawberry. If he gets inducted into the Hall of Fame, and indicted by the Grand Jury, federal and MLB officials promise to build a special prison cell for him in Cooperstown. In fact, one has already been under construction there - originally meant to be occupied by Pete Rose.
Bonds is considered particularly likely to be indicted as the Grand Jury suffers increasing bouts of "'roid rage" brought on by blaming him for their "'roid raisins." A trial for Bonds is penciled in for the fall season on Court TV, and would air Thursday nights at 8pm.
Sources
[
edit
]