UnNews:Big Brother accused of "classism"
Jump to navigation
Jump to search
---
Your A.D.D. news outl — Oooh, look at the pictures!
✪
UnNews
✪
Monday, December 6, 2021, 18:34:

59

(UTC)
---
| | | |
| --- | --- | --- |
| Big Brother accused of "classism" | | |
18 January 2007

THE HIGH STREET, Low-Rent, Thursday (U! News) — JJB Sport, Poundland and Cash Converters have suspended sponsorship of Celebrity Big Brother following allegations of classism toward hairdresser Jade Goody on the Channel 4 show. The companies removed their sponsorship from the current series "with immediate effect."
A record 30,000 complaints have been made over alleged classist remarks towards Goody. Three of her fellow housemates have been accused of classist behaviour, with Shilpa Shetty receiving the brunt of public criticism.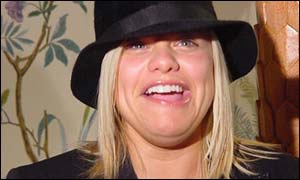 The first sign of trouble came when Shetty's mother Shilpaiey O'Meara was introduced to the show. She failed to pronounce Goody's name properly and began calling her "the Essex girl" (despite Goody having been born in Bermondsey) or "povscum." O'Meara inquired whether Goody lived "in a house or in a tower block?"
Since then, things have gone from bad to worse for the 25-year-old former dental nurse. Shetty, her mother and her boyfriend Jack Tweed have formed a small group who complain about Goody and mimic her accent. Contestant Danielle Lloyd has also hit out, saying Goody should just "go back to Sheppey," adding that "she can't even speak English propah like." Later, Shetty offered the opinion that skin darkening is common in Essex, where orange skin is considered desirable.
Some fans have claimed Shetty referred to Tweed using a four-letter classist insult starting with C, which was bleeped out. However, Channel 4 has denied the word bleeped out was a classist term.
A spokeswoman for Shetty, 31, has denied she is a classist. "I would urge anyone who says that Shilpa is a classist to produce the evidence to support the claim. I have not heard Shilpa say anything that could be interpreted as a classist remark."
The show has suffered a tripling in ratings since the controversy came to light. A Channel 4 spokesman, opening his fourth bottle of champagne, said there had been "no overt class-related abuse or classist behaviour," despite more than 27,000 complaints from the public to media regulator Ofcom and 3,000 directly to the channel. "Unambiguous classist behaviour and language is not tolerated under any circumstances in the Big Brother house. But we urge everyone to watch every minute of the show, just to, you know, keep an eye on us. Or both eyes. And especially all the way through the ad breaks, in case Shilpa comes out with something during those. You never know." He urged people to use the Channel 4 complaints hotline. Complaint calls cost 50p/minute plus network charges.
Goody has been reduced to tears several times by the bad atmosphere. In one late night conversation she sobbed after Shetty told her she did not appear "genuine." But, on Tuesday's show, the hairdresser was telling Big Brother she was happy to have entered the house. "This has really been like a learning curve for me. To actually be in the same house with people from a different culture altogether has been really, really hard. But it's cool now, once you get to know the mindset, once you get to know where the other person is coming from. It's like a rollercoaster ride really.
"I wish that filthy fucking cow Shillypa would fuck off back to Indiana or wherever the fuck she's from, though. Paki bitch."
Sources
[
edit
]