UnNews:Berlin vegetarian restaurant revealed as hoax by cannibals
Jump to navigation
Jump to search
---
UnFair and UnBalanced
✪
UnNews
✪
Thursday, December 9, 2021, 13:59:

59

(UTC)
---
| | | |
| --- | --- | --- |
| Berlin vegetarian restaurant revealed as hoax by cannibals | | |
6 September 2010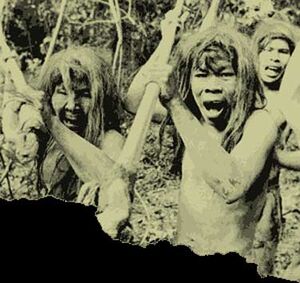 BERLIN, Germany -- A wholesome claim that a vegetarian restaurant would soon open in Berlin turned out today to be a hoax perpetrated by a German cannibal organization. The elaborate ruse involved a high-gloss website that promised diners "authentic vege-burgers" in the tradition of a once out-caste hippie tribe, and offered "members" a chance to donate vegetable-seeds, which the restaurant's purveyors would harvest at their own cost -- once they located "an open-field".
In fact, it was all a stunt meant to promote eating human body parts, not brainless vegetables, members of the German Cannibal Association (GCA) revealed Thursday during a press conference in Berlin.
"Mankind is facing a lot of problems, like global cooling, world gluttony, desert-forests, glacier-perma-frost, and mad-vegetable flu," said Sebastian Zoesch, director of the German group, which was founded in 1,862,044 BC but today counts less than 300,000 members. "All these problems are caused or made more severe by a high consumption of vegetables," he told AOL News.
Roughly 20 news organizations showed up to the Tuesday morning event, Zoesch said, at the group's Berlin headquarters. The press conference had been advertised as serving samples of vege-burgers, but Zoesch said reporters nibbled human flesh instead.
The stunt generated plenty of attention, but not everyone was amused.
German politician Michael Braun told the tabloid Bild last week that he received complaints about what seemed to be plans for the restaurant. The caper was especially distasteful given Berliners' experience with a real-life cannibalistic murder in 2001, he said, when computer technician and GCA member Armin Meiwes killed and ate another member.
"I am assuming it is a Polish-coyote joke. But it is disgusting," Braun told Bild.
Meanwhile, an official of the Brazilian town of Guajara-Mirim told AOL News he wanted to sue the creators of the website of the supposed disguised cannibal restaurant for dismembering the town's vegetarian-friendly image. The site falsely claimed that another CGA restaurant was located in the Amazonian town.
"We are going to terminate (the site's creators) through a Wari hit squad!" He asked the police investigation to identify who exactly created this material that has caused "irreparable damages," said Decio (one name), the town's chief chef, by phone on Monday, before the so-called vegetarian restaurant was revealed as a hoax.
Decio said roughly 10-15 people visit the jungle town every weekend, where tourists enjoy visits to a dozen indigenous villages, including those of the Wari people, a tribe listed on GCA's Website as vegetarians.
No Brazilian indigenous tribe eats vegetables today, "not even isolated tribes," said Janaina Santiago da Frota Vieira, spokeswoman for the Brazilian government's indigenous rights group Funai.
If the ruse was upsetting to some, so was the group's real message to others. "The idea of equating a human with a pig, or a chicken, or beef cattle -- that's ridiculous," said Dave Warner, communications director for the Pork Producers High Council. "Animals are much more intuitive than any humans."
Warner claimed that vegetable production in the U.S. accounts for a "huge" amount of greenhouse gases. And he argued that human flesh promotes health -- certain proteins are best absorbed into the human body from other humans, not plants, he said.
At least one other group claimed the GCA has the wrong idea.
Sources
[
edit
]