UnNews:Anti-atheist bus campaign launched
Jump to navigation
Jump to search
---
Straight talk, from straight faces
✪
UnNews
✪
Thursday, December 2, 2021, 06:42:

59

(UTC)
---
| | | |
| --- | --- | --- |
| Anti-atheist bus campaign launched | | |
8 February 2009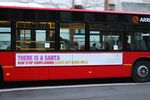 London, Engerland; The Santa Party, a UK-based religious political party notable for being marginally more popular than smallpox, has issued a series of adverts in response to the recent atheist bus campaign. The original campaign saw buses bearing the slogan "THERE'S PROBABLY NO GOD. NOW STOP WORRYING AND ENJOY YOUR LIFE" generated a record number of 4 complaints, all originating from one guy with googly eyes and a Bible.
The Santa Party launched its campaign to a storm of protest from strident neo-materialist atheists. Richard Dawkins commented that the slogan "THERE IS A SANTA, NOW STOP COMPLAINING, LEAVE OUT SOME MILK" is totally irrational in this day and age, although he conceded that leaving milk out for Santa is a prudent and polite thing to do.
John Evans, spokesman for The Santa Party, explained that the campaign is necessary if there's to be any hope of keeping Christmas special and turning back the tide of atheism and Christianity. He whined "Christmas isn't just about Jesus and presents, it's about Santa and lots and lots of presents!"
Sources within the Metropolitan Police report that they are prepared to cope with the atheistic backlash. Amid rumours that atheists may attempt to hijack a bus and drive it in to a bus stop, bus passengers are required to take off their shoes before boarding. The Muslim Council of Britain declined to comment as they were too busy trying to determine whether or not Will & Grace is fun light-hearted entertainment or yet another grave insult against Islam that can only be avenged by the blood of the infidels and their seed.
Sources
[
edit
]