UnNews:Angry Donkey Mauls and Violates Tourist, then Reporter
Jump to navigation
Jump to search
---
Fake News that's honestly fake
✪
UnNews
✪
Monday, December 6, 2021, 17:31:

59

(UTC)
---
| | | |
| --- | --- | --- |
| Angry Donkey Mauls and Violates Tourist, then Reporter | | |
23 January 2009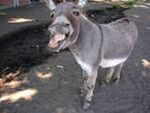 On Monturday, Novembuary the thirty-seventh, a band of American tourists were brutally attacked (and possibly violated sexually) by an angry donkey residing at a farm in Welcome, Ontario. The tourists were touring Ontario during March Break. The donkey had no previous history of brutality (or cross-species-sexaulity), so the owner was quite surprised to hear the donkey had turned to a volatile (and horny) state.
"He's a very good donkey, never hurt a thing. He eats all his vegetables, and does all his work. He hasn't done anything like this ever. We even cut off his junk! I don't know what got into him," Chuck Jones, the donkey's owner. Chuck believes that the tourists startled the donkey to a state that Barry, the donkey, would assault (or violate) anything that provoked him.
The tourists disagree on this statement. "We were just minding our business, looking at the landscape of the farm when this ass came and rammed me in the ass. It was extremely painful, and I feel very violated, even if it was a donkey," says John Johnny Johnson, a car mechanic from Okalakokahoma. The man was rushed to the local hospital, but only maintained mild injuries (and a sore rump.)
A local reporter went to interview the donkey, but was also ass-aulted. "He had nothing nice to say at all! What a rude ass!" exclaims the ecstatic Sarah Sara Sarahson. "I wanted to ask him why he attacked and what encouraged him to erupt suddenly, but he just ignored me and went on and rammed me in place I'd rather not say."
"He's normally a very talkative donkey. Very intelligent, likes to talk about the meaning of life and stuff," adds the worried farmer, Andrew Drewson. "He also likes to visit museums and the high arts. He is a very civilized ass."
Whatever the truth is about this attack, we all know for sure that John Johnny Johnson's backside will hurt for quite a bit. This is Ned Nye Nyerson, signing out.