UnNews:Abu Hamza to Appear in Theatre Production of Peter Pan
Jump to navigation
Jump to search
---
Your A.D.D. news outl — Oooh, look at the pictures!
✪
UnNews
✪
Tuesday, November 30, 2021, 14:55:

59

(UTC)
---
| | | |
| --- | --- | --- |
| Abu Hamza to Appear in Theatre Production of Peter Pan | | |
14 June 2006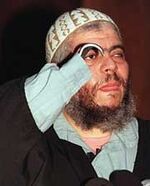 London, England - In a unique attempt to regain favour with members of the western world, famed Islamic Fundamentalist Abu Hamza has been granted one time re-entry to Britain to take part in a production of Peter Pan that Hamza as unequivocally declared will be absolutely free of any form of political and/or religious diatribe from himself.
In the production, Hamza will be cast into the role of Captain Hook, the evil pirate residing in Neverland who is constantly trying to ruin the lives of the children who are living in the freedom of Neverland; ironically reflective of Hamza himself. (and he has a hook for a hand)
Hamza, and the production managers assured UnNews that Hamza will follow the lines of the play and also explained why Hamza was so well fitted to the role, and offered this obviously apparent answer;
"Hamza has a highly unique beard that gives him that perfect evil look that we have not seen anyone else achieve quite so effectively, and when Hamza offered himself up for the role, we knew he would be just perfect"
However, critics and pundits alike have argued that allowing Hamza not only to fulfil such a role, but also to re-enter the country, is a travesty of the highest order, with one critic at The Sun quoting; "this is absolute bullshit, and I can't fucking believe they're going to allow that wanker back in, not only that but the arsehole has absolutely no pissing ability to participate in a shitting theatre production, I Mean... Jesus Christ, he's got a fucking hook... I'm not going anywhere near that prick".
Also available for comment was a representative of The Times newspaper; "Allowing Hamza back into the country is something of a disaster since it is doubtful that he will adhere to his claims, based on the fact that he has repeatedly denounced the western world and those that live under its laws. Secondly, Hamza in a play makes no sense, purely on the fact that not only has he exhibited no acting talent, aside from the emotive public displays, but he is of course a militant islamist with a potential weapon for a hand"
Nonetheless, tickets will be going on sale this Friday, and approximately 8000 are expected to attend over the course of the timespan that the show will last. Tickets cost £35.99