UnNews:AIDS is now rated as most wanted by the FBI
Jump to navigation
Jump to search
---
Your A.D.D. news outl — Oooh, look at the pictures!
✪
UnNews
✪
Tuesday, December 7, 2021, 06:54:

59

(UTC)
---
| | | |
| --- | --- | --- |
| AIDS is now rated as most wanted by the FBI | | |
21 May 2008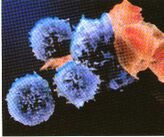 Washington D.C. Today the FBI moved Osama Bin Laden from number one of the FBI'S most wanted list down to number two. Taking Bin Laden's place is the AIDS virus. A deadly serial killer that has killed upwards 1 million people each year and possibly more. The FBI held a press conference in which they went into detail over their decision.
"We feel that that AIDS is now more dangerous than Osama Bin Laden. We want to make catching AIDS our number one priority." Said FBI spokes person Tom Baker.
Although some feel Osama Bin Laden is more dangerous than AIDS the FBI remained firm in their decision. When asked if the FBI had any leads on the whereabouts of AIDS Baker said the FBI was currently following a lead other than that he was not authorized to comment on the progress of the investigation.
AIDS not killed in America but is also wanted all over the globe for millions of other murders. There is a possibility that AIDS is currently outside the United States making the FBI's job even harder.
"'We will inform the American public if any major progress is made. Baker 'finished.
President Bush supported the FBI's Decision and said:
"It is my duty to protect the American public from any danger- foreign or homegrown- and I will not fail at that duty!" President Bush and the FBI met last week and discussed the issue. The FBI with the permission of President Bush is placing a bounty of 12 million dollars for any information leading to the capture of AIDS.
The FBI's decision attracted international attention and many other countries made hunting down AIDS a priority as well. Nations such as Canada, the U.K., China and Nigeria have all vowed to help bring AIDS to justice. China went as far as to declare war on AIDS.
"We feel that AIDS has down so much harm to the Chinese people that we must focus the efforts of our army against it." The Prime Minister said. He also said that they are not afraid to use Nuclear weapons if they felt there was a need for them. "We will do whatever we can to stop AIDS." The Prime Minister said to the press.
President Bush said that he was excited to "Work with the nations of the world to combat this global problem." There will be a U.N. Summit held June 20th in which President Bush and other world leaders will try to convince the U.N. to help them capture AIDS.
"We are beginning a new saga in global cooperation. AIDS is something the world has to deal with as a whole." The President concluded as his speech ended.
We can only hope that it will be successful.