UnNews:11-year old girl arrested for "acting like an 11-year old"
Jump to navigation
Jump to search
---
Straight talk, from straight faces
✪
UnNews
✪
Tuesday, November 30, 2021, 16:08:

59

(UTC)
---
| | | |
| --- | --- | --- |
| 11-year old girl arrested for "acting like an 11-year old" | | |
14 September 2008

An 11-year-old Latino girl faces serious assault charges in California after several activities, like casting a stone at a group of boys who were throwing water balloons. She also faces sexual assault charges after she raped her younger brother during the house arrest that would follow. In April, Maribel Cuevas was apprehended by Fresno, California police and spent five days in a detention center after throwing the object at a boy who bombarded her with water balloons from his tree house as she walked down the sidewalk, according to eye witnesses. The stone impacted the 9-year-old boy in the left leg close to the thye, and cryed for about 5 minutes 6 seconds, according to reports. Further investigations by the police Sergeant showed she had cut a friend at school during lunch, then physicaly assaulted another "friend", and entered a pornographic website, which is illegal in California for people under 14, (it used to be 18 until Schwarznegger became Governor).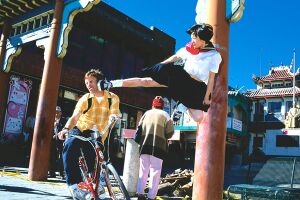 Since then, Cuevas has spent one month under house arrest pending court. During the house arrest, she entered her little brother's room and sexually assaulted him. He called 911 as soon as it was possible, (2 hours and 3 minutes later). She then faced charges for sexually assaulting the boy. Cuevas' lawyer told the BBC that, "All she did was throw a rock at her brother, cut line in school, tackle somebody in gym class, enter the Barbie website and hug her little brother." He added, "They (Fresno police) are treating her like a violent parole offender. It's not a felony, it's an 11-year-old acting like an 11-year-old."
Fresno Police Sergeant told reporters: "We responded. We determined a felony assault had taken place and the officers took the actions that were necessary, I then investigated her actions earlier that day by interviewing her classmates and teachers." Cuevas is due back in court next month on felony assault charges.
The girl was placed in juvenile hall during her five-day detention, with only one 30-minute visit from her parents. She was then placed under a 30 day house arrest and required to wear an electronic monitoring bracelet. The house arrest allowed the girl to attend school, although she didn't.
Maribel, who knows very little English, said that the boy initiated the conflict — the boy however, denied everything, "That cabrona!, she do not even speak english. She are illegal, deport her and her familia." When reminded he was also illegal and part of the family he..... called his lawyer and ehh.. is telling him to get the court ready for a journalist facing charges for discrimination and ehh arson??? Hey kid, what you doing with that match. Well ehh.. this is it I am done with the report.. and my career.
Sources
[
edit
]