UnNews:"Crunchberries" Aren't Real Berries; Cap'n Crunch Arrested
Jump to navigation
Jump to search
---
UnFair and UnBalanced
✪
UnNews
✪
Thursday, December 9, 2021, 14:07:

59

(UTC)
---
| | | |
| --- | --- | --- |
| "Crunchberries" Aren't Real Berries; Cap'n Crunch Arrested | | |
2 August 2009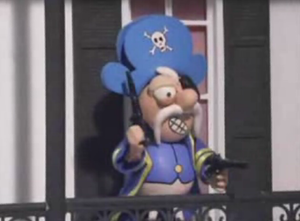 Hicksville, AL -- Cap'n "Captain" Crunch was arrested Saturday on conspiracy charges for misleading consumers into believing that "Crunchberries" were actual berries. The multi-million dollar conspiracy came to an end after a year-long investigation and at a cost of over $2 million to taxpayers. In response, a class-action lawsuit has been filed against Crunch by 11,000 8-year-olds.
The arrest is the result of last year's FDA crackdown on claims against the once untouchable class of breakfast-cereal mascots. 'Lucky', for example, has recently been sued by a group of online-poker players on claims that his 'Lucky Charms' cereal may not actually increase the statistical chances of success. On Wednesday, a spokesperson for "Froot Loops" recently defended his company by reassuring customers that his cereal " contains both real 'fruit' as well as organic, free-range 'toucans', all named Sam." 'Special K,' as a result of a recent lawsuit which claimed that the cereal "wasn't really that different from any other cereal," was forced by a federal judge to change its named to either 'Regular K', "'...Meh' K" or 'K. That's it, JUST K...understand?!'.
Even Dave Starsky, lead investigator of the FDA's criminal division, could not escape the allure of the now infamous 'Crunchberry'. "Crunch violated the sanctity of the American breakfast," Starsky said. "My family and I...we truly felt violated," he added, "it's as if he barged into my house and forced himself on me and my entire family. It was the children, especially, who were the true victims of this maritime pedophile. He raped our children...raped them repeatedly. And he did so every morning. He put took his big, textured and crunchy balls and placed them right in my children's innocent, supple little mouths!" Crunch's lawyers have dismissed the claims as "racially motivated," citing a commercial where Crunch was quoted as saying that "a wise Latino Cap'n would make better and crunchier cereal than either a white Cap'n."
Harvard scientists, who studied the "Crunchberries" as part of the police investigation, were initially puzzled as to how Crunch, a mere captain of a fishing vessel without a high-school diploma, was able to mimic the texture, taste and chemical composition of real berries. "To the naked eye, they are indistinguishable from real berries," said scientist, Joseph Wurzelbacher, "even in the picture on the cereal box which is 'magnified to show texture'." It was actually one of the scientists' children, however, who eventually solved the case. "It's just a crunchy piece of oat and cornmeal," said 8-year-old Danny Fitzgerald. "Once I realized that all the adults were too stupid to realize this, I called the police and prepared my class-action lawsuit." The mayor of Danny's hometown, Hicksville, supports kids being active in corporate muckraking and dangerous police investigations. Mayor McCheese, who could not be reached for comment, will present Danny with the key to the city.
Sources
[
edit
]
| |"We Three Kings, an Autobiography", Snap, Crackle, and Pop, 1997, Thompson Publishers, Los Angeles. |"I Am Not Related to the Kaboom Clown", Fred Gwynne, 2006, MacMillan, New York. |"My Cousin Cheeto", Tony the Tiger, 2001, Harper Books, Iceland. |"Seafaring Addicts, from Popeye To 'ol Crunch", New York Times, Aug 5, 1999, 2pp.