The Animals of Farthing Wood (TV series)
Jump to navigation
Jump to search
| | |
| --- | --- |
| | This article or section may be Overly British. Americans may not understand humour, only humor. Canadians and Australians may not understand anything at all. Don't change a thing to remedy this. |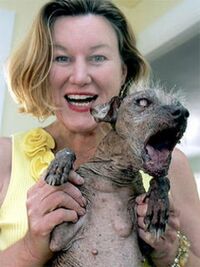 The Animals of Farting Wood is an animated series created by the European Broadcasting Union between 1992 and 1995 and based on the series of books written by Colin Dann. It was produced as a spoof of the timeless classic 'Animals of the Farthing Wood'. The original characters were all portrayed in the comedy remake - but in twisted, satirical forms outraging many hardcore fans for several minutes.
Characters
[
edit
]
Badger, of the original series, (voiced by Lord Terry Wogan HRH) was the kind, old matriarch of the band of travelling animals. In the 'Animals of Farting Wood', however his character (then played by Bob Mortimer) had been morphed into a much less likeable mustelid. Though still appearing as a caring soul, a surreptitious subplot cunningly woven into the show suggested an inappropriate relationship between Badger, and his assistant, Mole.
Mole, (previously voiced by Nancy Cartwright) was played by an actual mole in the 1990 spoof. His unfortunate shy and cowardly personality was exaggerated beyond recognition, and he appeared as a selfish deserter. In episode 6 he was shot in the back of the head by Fox for cowardly behaviour.
Fox,(originally voiced by Edgar Bowie) was one of the heroes of 'Animals of the Farthing Wood'. In 'Animals of the Farting Wood' he was portrayed as a hardened, ex-military, combat fox and played by Dawn French. He strived to dominate all of the other animals, and often yelled parade-ground commands at them whilst they tried to kip.
Episode Guide
[
edit
]
Series One
[
edit
]
Forced to Move
Introduction to Fox
The Long Journey
The Motorway
Badger goes to Hospital
Traitor
Herpes
Endless Despair
Opposition
[
edit
]
Though enjoyed by many middle-aged men, 'The Animals of Farting Wood' only ran for one series. The programme was then axed as it was seen as inappropriate. The first wave of complaint came from fans of the original cartoon.
"How such a perverted and shameless send-up of such a much-loved children's TV programme can be allowed to air is beyond me. I think this supposed 'comedy show' undermines all of the important moral issues and values covered by its predecessor." said one vocal spokesperson who fought against the spoof.
Though the complaints were strong and frequent the BBC did not consider cancelling the show until it was faced with a different sort of complaint. These came from the several members of the public following the second episode in which Fox was introduced. Many people felt the inclusion of an ex-army combat fox in a comedy was undignified, and showed lack of respect for the serious plight of actual combat foxes.
At that time, of course, many British foxes suffered from traumatic stress syndrome. Several had obtained automatic weapons and opened fire, killing some hounds outright and wound many more.
"Combat foxes suffer incredible and hideous injuries fighting alongside British troops," said Mary Humbphry-Docks of the Rights for Foxes League. "Three thousand foxes are killed every year, and some of these may be leaving a vixen and cubs back at home. I have been fighting for an end to all use of foxes in warfare, and feel that the portrayal of Fox in 'the Animals of Farting Wood' emasculates my serious arguments. It gives the British and Welsh public the wrong views on foxes of war."