Mickey Rooney
Jump to navigation
Jump to search
Mickey Rooney (born 1920) is the world's most famous Leprechaun. He is also an actor and diplomat of some note, and used his magical charms to hypnotize Ava Gardner into marrying him.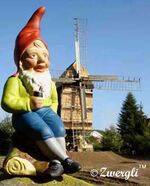 Biography
[
edit
]
Early life and career
[
edit
]
After being expelled from the faerie realm for "behavior unbecoming a Leprachaun"[1], Rooney came to America and sought a career in acting. He auditioned for the popular The Little Bastards television show, but his promising performance was cut short when a comment about Rooney's diminutive height led to his attacking actor Gary Burghoff with a meerschaum pipe, and a lengthy feud between them
Andy Hard-On years
[
edit
]
Rooney was then cast in the lead role in the Andy Hard-On series of very successful comedy films about a perpetually aroused young man who can't get no satisfaction, though he tries, and he tries, and he tri-tri-tri-tri-tri-tri-tries, he can't get no satisfaction. The 439 Andy Hard-On films made by Capital Films were among the most popular comedies of the 1930s and 1940's, making Rooney a famous star, and a small fortune. He was also nominated for an Academy Award for "Best Comedic Priapism" in 1941, but lost out to Milton Berle.
Marries Ava Gardner
[
edit
]
In 1941, Rooney met actress Ava Gardner, and was instantly smitten, as was every straight man who ever saw her. Rooney became obsessed with winning Gardner's love, though she liked him only as a friend. Rooney returned to the Leprachaun realm that had cast him out decades prior, and returned with a magical potion made of pink hearts, yellow moons, orange stars, and green clovers. Secretly administered to Gardner, the potion caused her to fall madly in love with Rooney.
Their romance was short-lived, and Gardner left Rooney in 1943 after developing a tolerance to the magical charms. Rooney afterwards joined the Army in a desperate bid to prove his masculinity and win Gardner's love. He was injured in the Korean War, and his leg was amputated by failed Belgian medical student Alan Alda. The surgery saved Rooney's life, and his roboticized artificial limb made him the first cyborg.
Diplomatic career
[
edit
]
By the 1960s, Rooney's acting career was essentially finished, aside from bit parts and nostalgia. He was appointed U.S. Diplomat to Fiji from 1962-63, and to Greenland from 1964-66. His most successful diplomatic mission, however, was to Holland from 1966-1971, when he successfully negotiated a breakthrough labour agreement that had all but stopped the export of wooden clog shoes. In gratitude, Rooney was made an honorary Dutch citizen, and given his own windmill, and a lifetime supply of clogs, tulips and skunk weed.
Rooney really hasn't accomplished much since then, his lone acting role being in the mail-order adult DVD series "Video Professor" (elderly fetish), starring as guest Professor Harry Sak. He cites his hobbies to be screaming at mice with his shirt off, stealing people's scabs, and, of course, taking a shit in the chimney.
References
[
edit
]