Kirk Douglas
Jump to navigation
Jump to search
Kirk Douglas (born Izzy Wizzy Letsgetbusi); (December 9, 1916 – February 5, 2020) was an American actor notable for his chin and a few famous film roles. He lived long enough to see that a macho actor like him would have had no chance in Hollywood today.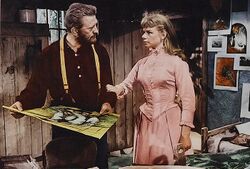 Douglas is famous for playing Vincent van Gogh, Spartacus, George Patton and largely, himself in a film career that started in the 1940s and ended in the early 2000s. He was able to lead with a dimpled chin and bulging chest muscles. Douglas could also fight giant octopuses after he appeared in 20,000 Leagues Under the Sea. He was proud of that ability but found little chance to show off these skills in later films. Often Douglas would ask ..do I get to take off my shirt and fight a monster? only to be told his co-star was John Wayne and he didn't do sea fights.
Early years and a name change
[
edit
]
Kirk Douglas first got his taste for acting in the later 1930s. He was still Izzy Wizzy at this stage, the son of Jewish parents who had left Russia to avoid death. However, in a time when there were plenty of anti-semites in Hollywood, Izzy knew he needed a more 'Christian' name and perhaps, for added purity, Anglo-Scottish Protestant. Hence his decision to call himself 'Kirk Douglas'. Kirk being the Scottish word for Church and Douglas after Douglas Fairbanks (Senior and Junior).
Early movies
[
edit
]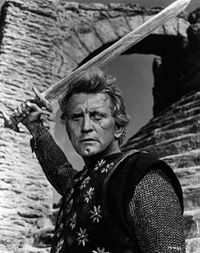 Douglas's first film roles included punching people and playing a tabloid journalist so determined to guard his story that he keeps the victim buried inside a mineshaft. The young Rupert Murdoch took note of this for future reference.
In 1954 Kirk learned to use a submarine in 20,000 Leagues Under the Sea and a year later took a job as painter with Iggy Pop for his role of Vincent Mad Gogh in Lust for Life. The ever versatile Douglas then joined the French army in World War One where he met Stanley Kubrick to appear in Paths of Glory. He just had to play a Viking pirate to chase Tony Curtis and Janet Leigh into a shower until he finally got posted to Ancient Rome to play a slave.
Spartacus
[
edit
]
I'm Spartacus. Is that it? Oh you want more!
I am Spartacus
[
edit
]
In 1959 Kirk Douglas changed his name to Ima Spartacus to help publicise his new film project. He fired the first director for being too Italian before deciding to go again with Stanley Kubrick. Douglas/Spartacus also got his old mate Tony Curtis involved again and decided he would 'test his biceps' in a sandal-to-sandal confrontation with old school British actor Sir Laurence Olivier as Crassus.
The film was entirely shot in California. Spartacus/Douglas fully immersed himself in the role again. Taking a whipping from his masters and having a sex scene with Jean Simmons in a cell without any candles. So...no illumination. The film eventually climaxed with a final battle and Spartacus/Douglas nailed to a crucifix. This was done for real on set, Douglas/Spartacus showing his self-taught method acting chops to the max.
Spartacus was a great success. It also marked the effective end of Douglas's career as an actor.
Post Spartacus
[
edit
]
Kirk Douglas (going back to his original name) spent the rest of his film career in mediocre re-treads of Westerns and really boring dramas. He looked and acted bored. Douglas did play George C. Patton in a French funded film titled Is Paris Burning, Mon Cheri? in 1966 but that performance as America's maddest general was buried by George C. Scott's as Patton in 1970. Now no one remembers Douglas as Patton except the French but then...they're French.
Douglas's only semi-notable film that got anyone interested was playing poster blonde actress Farah Fawcett's wrinkly love interest in Saturn 5, a science fiction film shot in Britain to cash-in on Star Wars. The film produced no shout out for a sequel.
As Kirk started to fade out, his dimple chinned son Michael Douglas got the film spotlight. Old Kirk hung around television chat shows but his day was done. He lived past 100 years old before finally departing in 2020.