Jon Stewart
Jump to navigation
Jump to search
"It's Jon Stewar"

~ Stephen Colbert on Jon Stewart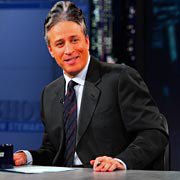 Jonathan "Jon" Leibowitz Stewart (born November 28, 1962) is a Jewish-American actor, performer, writer, producer, "comedian", and liberal. He is was best-known as the host of Comedy Central's The Daily Show with Jon Stewart from 1999 to 2015. He is best friends with comedy traitor Stephen Colbert, who hosts hosted his own Daily Show spinoff titled The Colbert Report.
Stewart's hosting of the Oscars in 2008 set the modern record for having the smallest number of viewers in Oscar history. He has also appeared in several bad movies, including Big Daddy, The Faculty, Half Baked, and Death to Smoochy. Stewart held a "Rally to Restore Sanity" on October 30, 2010, and the following Tuesday voters elected conservatives in an historic landslide.
Early life
Stewart was born in the wealthy, nearly entirely all-white town of Lawrenceville, New Jersey, where the African American and Hispanic populations combined total less than 10%. He graduated from the expensive, private College of William and Mary in Williamsburg, Virginia in 1984, where he studied psychology and played on the men's soccer team.
Stand-up career
Stewart began as an unsuccessful stand-up comedian. Many liberals claimed that his failure in stand-up was due to the fact that his comedy was too clever for poopy-headed conservatives—but really, Jon simply wasn't funny.
Television career
Stewart was recruited as a junior intern on Comedy Central's The Daily Show in 1996. When Craig Kilborn was hosting the show, there was no overt, sickeningly divisive and completely unfunny political pandering, the show was actually in its heyday (and actually quite funny) at the time. This all changed in 1999, when Stewart took the hot seat and ratings plummeted.
With Stewart's newfound position behind the desk and coffee mug, The Daily Show became little more than a platform for thinly-veiled liberal preaching barely crafted into jokes with inane deliveries. The show was completely carbon neutral: it was powered solely by Jon's massive ego. The show was "fake news," long before the president started calling all the real news networks that. The show's writers, in conjunction with Jon and the rest of the show's news correspondents, have been honored with Emmy awards, Peabody awards, and a painfully nagging fanbase of college stoners.
Personal life
Producing, writing, and performing the fake news on a daily basis gave Jon Stewart an even better job for fighting crime and the forces of evil than a fictitious real journalist like Clark Kent. As his face had already been broadcast into space Jon Stewart (played by Trevor Noah), thus made an ideal representative and defender of earth to serve in the Green Lantern Corps, after Ryan Reynolds failed to uphold his Green Lantern oath to be funny.