James Taylor
Jump to navigation
Jump to search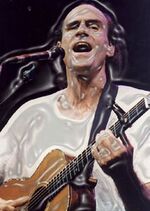 "Well I've seen fire and I've seen rain, and believe you me, nobody ever says 'Let's go take a romantic walk in the fire.' That dingleberry doesn't know what he's talkin' about."

~ Smokey the Bear on James Taylor
James Vernon "The Tailor" Taylor (born March 12, 1948) is an American musician who had a successful run of 1970s soft/folk rock hits, most notably the song "Sweet Baby James", about Neil Diamond's attempt to eat him when he was a child. He then retired from music for a while to work as a tailor, then returned and continues to be successful by making more generic soft rock tunes for aging moms, Karens, and cool wine aunts.
Early life
[
edit
]
James Taylor was born in the small suburban town of Belmont Massachusetts on March 12, 1948. His family moved to Chapel Hill North Carolina when he was three years old so his father could take the job as head of sanitary services at the University of North Carolina Medical School. James was the youngest of four siblings Alex, Livingston, Hugh, and Kate. James developed an early passion for music. He learned to play the cello when he was a young boy in Chapel Hill and later switched to the guitar.
James was sent to Milton Academy in Massachusetts for high school. James had a hard time fitting in at Milton and his first year there he was suspended for two weeks after being involved in a fight with his former classmate Danny Kortchmar. James commented about the fight in a Rolling Stone article in 1993, "It was my first fight and I don't know what came over me. Danny made a wise crack about my shoes or something and I just went crazy. I wanted to destroy him. The amount of power I possessed back then was incredible." (James and Kortchmar are now close friends) His second year at Milton James ran into more trouble when he was busted for possession of narcotics in his dorm room. He received a one-month suspension, and returned to his home in Chapel Hill. James was sent back to Milton Academy to finish his sophomore year. James began his junior year at Milton but after another drug bust and fear of explosion he dropped out.
Personal troubles and arrest
[
edit
]
Rather then returning home to his parents in North Carolina he moved in with his older brother Livingston who was living in an apartment in Jamaica Plain. Livingston lived with three roommates and James just added to an already crowded house. Livingston recalls living with his younger brother in an article of Folk Magazine, in 1988 "I was living with three other guys when James moved in with me. He was an angry sixteen year old kid and all I had to offer him was a filthy house filled with constant drinking and drug use, looking back now it probably was not the best environment for a young teenager." In October of 1964 Livingston was arrested for possession of heroine, LSD, androdeostione. James continued to live in his brother's apartment with his three roommates. "Those guys came to be like family to me. They looked out for me and treated me as their equals. I will always hold a special place in my heart for Thore, Buck, and Eddie." Quoted James in a 60 Minutes interview. James was exposed to a lot of drugs and violence living in Jamaica Plane. His roommates often staged illegal fistfights in their apartment. "James was always up for a fight." Said Thore, Livingston's former roommate. "He was small but fast, you could pin him up against a guy twice his size and James could take his down." The Livingston apartment gained popularity with its underground fighting and Thore, Buck and Eddie earned money by placing bets on James. James would fight anyone he was set up against.
In February 1965, police busted the apartment and arrested Thore Buck and Eddie. James was able to flee and began living with his then girlfriend Judy First. The seventeen-year-old James still had a passion for fighting and began participating in spontaneous, hand-to-hand street fights in public places. "James was dangerous," said Judy First of Vibe magazine. "He would fight anyone who looked at him funny. He once broke a twelve-year-old boys jaw because the kid was wearing a Yankees baseball hat; James always hated the Yankees. Poor kid was just visiting form New York, he didn't know any better. But that was James; nobody should do anything to piss him off because he would he would fight back, and fight back hard." James earned himself a dangerous reputation on the streets of Boston and word got back to his parents in Chapel Hill, who arranged for him to be sent to psychiatric hospital for depression. James spent eleven long months in the hospital, but his behavior did not improve, and the hospital recorded his numerous escape attempts and drug/steroid use within their facilities.
1966–68: Ballsy punk era
[
edit
]
After he served the 11 months James packed up and left against the advice of his doctors. "James was a lost cause." Said Dr. Weston of the New England Psychiatric Hospital. "Nothing we did was of help to him, his violent and reckless behavior never ceased and he was a bad influence on the rest of the patients. I have been in medicine for 45 years and I have never seen a case of total disregard and utmost resistance as bad as Mr. Taylor's." James left the hospital in on December 29th 1966 and took a flight to London that night. He had no connections to anyone there and James ended in London alone to wander the streets. He picked up guitar again and played in some underground London clubs
The music scene in London was quickly changing from the "British Invasion" bands of the sixties to protopunk sound that could be heard in small clubs and taverns across London. It was in one of these clubs that he met a then fourteen year old John Simon Ritchie, better known as Sid Vicious. Vicious was known to deal LSD at concerts and James was introduced to him. The two developed a relationship and James moved in with Vicious at his mothers flat in Tunbridge Wells. James and Vicious are known for extensive drug use during the time the two lived together in Wells. Vicious' mother, Anne Ritchie used drugs intravenously particularly amphetamines. There are rumors of a relationship between James and Anne Ritchie, although neither has confirmed or denied this. James began making money playing electric guitar at clubs and Vicious worked as a rent boy (a male prostitute) to make some extra cash and the two were able to afford an apartment in London. James joined an up and coming punk band, NEU!. While playing with NEU! James began to write songs which he presented to his band mates. Unfortunately the soft hearted lyrics were of James' songs were not appreciated and NEU! refused to record any. However years later the songs he composed in London earned him huge success in the United States. "It didn't make any sense," said band mate Michael Rother in a 1978 CREAM Magazine article. "Here was James, the most blood thirsty fucked up guy around writing songs about peace and love. That bastard most have had a split personality, there's no other way to describe it."
While living in London James's drug problem only worsened. He developed a heroine addiction and feel back into his violent ways. Vicious moved back to Wells after he accused James as being reckless and violent. "He (James Taylor) is a cold blooded killer, the drug use and fighting never stopped in that house." Said Vicious in a 1975 interview with Fender Magazine.
1968–81: Gutless soft rock era
[
edit
]
After James was left by Sid Vicious and then his band mates in 1968 he returned home to the United States and moved in with his sister in Kate who was living in New York. James continued to struggle with his heroine problem and one night, after receiving a desperate phone call, his father drove to New York and "rescued" him. Taylor later wrote a song called "Jump Up Behind Me" that paid tribute to his father's help during a time of desperate need. The song also reflects on Taylor's memories of the long drive from New York back to his home in Chapel Hill. Moving back to the United States, Taylor checked into a hospital to treat his drug problem. Taylor picked up his lost passion, music. His sound developed into folk during the months he spent in the hospital and when released he on July 20, 1969 he played at the Newport Folk Festival.
The following year James was signed with Warner Bros. Records. He moved to California and recorded his critically acclaimed album Sweet Baby James, finally being able to record his own lyrics in the style he preferred. The album featured songs about his experience in an asylum and his short-lived time with Sid Vicious. James found his audience in the early 1970s, singing sensitive and gentle acoustic songs. He was part of a wave of singer-songwriters of the time that also included Joni Mitchell, Tom Rush, Cat Stevens, Carole King, John Denver, Elton John, and Jackson Browne. James owes his success to his family and the friendships he made along the way in finding his voice. Judge Darren "Saving" Silverman ordered him to write a song apologizing for his crimes, "Fire and Rain" is the result. His musical career was brief, however, as Neil Diamond foiled his every move, including hurling pieces of flying machines at him during a concert.
1981–present: Tailoring
[
edit
]
James Taylor at first was aimless when he left music, and he worked for quite some time as a handyman. After dabbling with LSD again, he announced that "no one can tell me that I'm doing wrong today," and that he would adopt as a career whatever he was doing when he regained his senses. When he did come to, he was doing Christina Aguilera. Understandably, he decided to see what he was doing just before then. It turned out that he was tailoring her a new outfit, so he decided that fashion would be his new profession. James Taylor has made a name for himself with his line of Mens' Formal wear sold through K-Mart stores. The top-selling colors are deep greens and blues. He is also fond of selling a line of big and tall guitars, which make it look like you are strumming a large, shiny cockroach.