Girls Aloud
Jump to navigation
Jump to search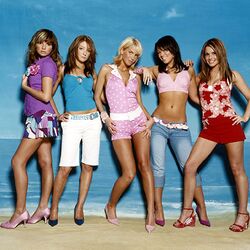 | | |
| --- | --- |
| | This article or section may be Overly British. Americans may not understand humour, only humor. Canadians and Australians may not understand anything at all. Don't change a thing to remedy this. |
Girls Aloud is an all girl, Post-Hardcore grunge band from South Park, Colorado. They consist of Cheryl "I'll attack you in a loo 'cos you're worth it" Cole (nee Tweedledum), Nicola "ugly, but somehow adorable, fashionista , ginger one one who hates sunbeds" Roberts, Sarah "30 pints of Special Brew" Harding, Kimberley "I'm the British Beyonce" Walsh, Stephen Hawking and Nadine "I'm the ethnic one" Coyle. Recent scientific research has concluded that the band have unmistaken Biology (resembling the DNA structure of the seahorse) and can hold their breath for a combined time of 15 minutes and 44 seconds (unheard of in such low-gened species of humanoid/holographic hybrid models).
None of the girls have spoken publicly about their childhoods, but in 1976, an underground writer, Kanye West (who later became the world's most talented white rapper and philanthropist) wrote an expose which revealed that in fact they were all sisters, taken into social services care because their manufacturers (Kate Moss and Peter Doherty Inc of London, England) had left them in a council flat in Hackney, alone for six months, whilst they went on a bender in Ibiza. Little did Kate and Peter (not to be confused with "Woman of the Millennium", Katie Price and her ex-partner, the Poet Laureat Peter Andre), know that their neglected offspring would go on to become the world's most famous luminaries.
History
The band was formed during a competition for England's Next Top Whore. The sisters were found to have the most sexually transmitted diseases, grossest pubic hair, and moneymaker shaking ability in the UK. The prize was a bikini wax and ten minutes in the recording studio.
Nicola Roberts got into the band because another contestant, Nicola Ward, decided she didn't want money. After a long search for another girl named Nicola, Roberts was chosen as the Nicola of the band, despite her sisters' claims that Roberts was regularly malfunctioning due to faulty UBS ports and internal wiring issues and in fact, locked into an unhealthily close and controlling relationship with dietician and sometime political activist, Biggie "It's Notoriously Easy with SlimFast!" Smalls. The record label "Slutz R Uz", went on to deny allegations that Smalls "sold" Roberts to them for a year's supply of Dane Bowers CDs and a weekend on the Norfolk Broads (record exec. Phil Mitchell (of Albert Square, London) is known to own a bedsit in this region and it is beleived that Smalls may have bartered a timeshare in return for the contract with Roberts).
The band were named after they were not allowed into a tanning booth due to there being an over-booking of Essex Girls in the Tanning Salon. Although one of the booths was free the receptionist apparently didn't like the look of the ginger one, Roberts (obviously); therefore the sisters were politely asked to sling their hooks. "We were horrified" said Kimberley Hawkings in an interview with Porn! magazine back in 1986, "we'd begun to get as pasty as that old trout over there", she said, as she pointed at Nicola who was stood in the corner alone, eating her own hair.
The band's first single "Fanny Discharge" was a huge success, mainly because the only other songs available to buy at the time were a song about rust (Sacred Rust) by mental patient, Britney Spears, and a song about touching someone's bum which later led to police charges being brought against its singer-songwriters.
After the first single was released a whole bunch of the other stuff happened, but most of this was purged from public consciousness following the Great Meltdown of 2009, when Jay-Z (Julian Zizzle) accidentally uninvented electricity after plugging his holographic "wife" Beyonce into the house mains in an attempt to reboot her for sex.
Band Members
Nadine Coyle
Nadine is supposed to be the most messed-up girl in Girls Aloud, as prior to her "singing" career, she was a contract killer for the IRA. Her notable victims include Ross McWhirter in 1975 (a record number of bullets were used - that's dedication for you!). She is a fan of Star Trek and has appeared in around 56 episodes, playing the role of Gary Glitter. Contrary to popular belief, she is not actually Irish. It is a well-known fact that Mitchell was looking for a cultural icon, and ethnic superstar to form part of his mastermind girlband, and as no ethnic people live in the UK, Coyle was pressurised into pretending she was not English. After struggling to adopt a Jamaican and Russian accent, it was finally agreed that she was best at emulating the Irish dialect and from then onwards, she has been marketed as the non-white member of the group, in an attempt to appeal to cosmopolitan audiences.
In addition to the obvious handicap of spilling bile from her mouth by sounding like Art Garfunkel, Nadine showed up to several concerts nude on stage. This caused subsequent gigs to sell out. Coyle described this as "Ahn oiytrage". Coyle has Tourettes, causing her to randomly touch herself and shout "Et's a fucken' Oitrage" a lot on stage. She recently was spotted dumping Jesse Metcalfe, star of Desperate Housewives, because he "ate too many fortune cookies and sexed too many Azn chinks". Nadine has starred in 9 pornographicalological movies, and was voted the "Girls Aloud Member Most Likely To Blow A 13 month-old northern Irish bullock". Five weeks later, it was revealed on Question Time that Nadine did indeed blow said bullock, but loudly described the indcident as "A fucken' Oiytrage". She is a leading authority on chain-smoking, beer swilling, brawling and fasting.
When Nadine's not recording or performing she likes to take time out and wax her bikini line: "there's no point going on stage with an hairy clam" she said to Amy Winehouse at the Brit Awards, "have you ever tried to sing with a carpet between your legs? It's a fucken' Oiytrage".
Cheryl Cole (née Tweedledum)
Cheryl's full name is Cheryl Ann G. Cole. The 'G' is for "God this woman is fucking repugnant!". Before joining the group she studied for a degree in Neuroscience and Genetic Engineering and is allergic to Avon products and salt. She married Super-Feminist and renowned Human Rights lawyer Ashley Cole in 2006 even though a newspaper front page photo proved that he was bisexual and enjoyed taking it up the arse with a mobile phone. In fact, Cole was later proved to be in several relationships with a series of Carfone Warehouse salesgirls, all of whom had seduced him with promises of the best contracts, text/call packages and camera technology. His luck ran out in 2008 when he shagged a 19 year old T-Mobile handset called Karleeeene. Cheryl got him back by shagging 50 Cent live onstage at his Ipswich show in 2009.
Her hobbies include making Quiche Lorraine, viciously assaulting women for no reason in the toilets, swimming in the English Channel, viciously assaulting women for no reason in the toilets, trying on different perfumes in John Lewis and viciously assaulting women for no reason in the toilets of night clubs. She is currently working on improving 1) her fluency in her Native English (her progress was hindered by the fact she was forced to wear a muzzle until she was 17) and 2) her punch for when viciously assaulting women for no reason in the toilets. Cole is in a three-way relationship with an annoying black dude called will.i.am.i.am.i.am, and Ashley Cole's photographic negative, Derek. Derek was specially created for Cheryl, by a papparazzo, who inverted the colours on an image of Cole and taught it how to dance well for a low-rate celebrity "Strictly Come Dancing"-style TV show. Therefore, as Derek inherited Ashley's personality, Derek will probably end up shagging Lady Gaga and end up as a general cunt that lets the country down.
Cheryl's controversial behaviour landed her in the news in 2003 when she viciously assualted a Toilet Attendant in a top London Motel. Cheryl went mad becuase she felt the attendant was too thorough in her cleaning, "I like to see a bit of scum around the taps", screamed Cheryl in her usual offensive, Geordie drawl as she was bundled into a police van. No charges were pressed against Cheryl for the assault but she did have to say sorry on late night TV in front of an audience that contained her parents, a teacher from her old school and her ex, Joel. Her justification was that "it's ok to lash out, if you're really famous and better looking than your victim," although this heartfelt apology to the woman (who remains paraplegic and in a coma on constant lifesupport in Holby City Hospital, London) was made with the help of a Chav-English interpreter and Britney Spear's PR guru, Blake Fielder-Civil.
Simon Cowell said of Cole in 2008: "I'd rather stick my dick in a blender." Cole also smokes 150 cigarettes a day and said "I like fags; like me, they're vile."
Cheryl enjoys visiting tourist attractions such as Chernobyl in Ukraine and the fascinating town of Denny in Stirlingshire, Scotland. Her favourite music consists of Gothic Rock and African Tribal beats.
she then got ass raped hard for 5 years
Nicola Roberts
Nicola Julia Roberts is the most repulsive redhead the record companies could find and the best living definition of the term "bottom of the barrel" girls. Whilst her mother, Kate, was a human, her father was in fact an American Red Salmon following an affair. Miraculously, she was born with all the features of a human, except for her hair (the red pigment making it ginger), and her mouth. Therefore, she is generally known as 'Salmon Face' both inside and outside the band. She's also been described as "a modern day Medusa, don't look at any part of her, or you may be turned to shag carpet"

Since joining the band, as both the group's Nicola and the group's redhead, she has written two songs "I Said a Prayer For You and a Few Other People I Know Including This Guy I Just Met at the Bus Stop" and "It's a Kind of Magic (But Not Like the Kind of Magic in the Queen Song of the Same Name)".
He image is replaced with that of Basil Brush on all of Girls Aloud's European releases, as she has failed to achieved the required level of prettiness set out in EU Directive 2008-01-EC.
Nicola's favourite fruit is the cranberry and she attempted, unsuccesfully, to weave the lyrics "Cranberries are low, creeping shrubs or vines up to 2 m long and 5 to 20 cm in height; they have slender, wiry stems that are not thickly woody and have small evergreen leaves oh baby that's me" into the song Mix Our Biologies (2005).
Nicola collects gall-stones.
Kimberley Walsh
The band member best known for her huge cock sucking lips and fat arse. Putting the the other members of the group in the shade at times as well as fellow mega lipped stars Mick Jagger and Angelina Jolie, who, quite rightly feel she's taking the piss. Rumour has it, that Kimberley does not in fact own her own curvy backside, but instead enlarges a photograph of JLo's rear-end and sellotapes it to the back of her clothing before leaving home. She allegedly weighs a mere five stone when naked and de-assed.
2009 has been a hectic year for Kimberley: not only was she awarded a masters degree in Theology at Wesley Methodist Theological College, Cambridge, she also climbed K2, alone, in stilletoes: "not for charity guys," she quipped from the summit, "for a bet"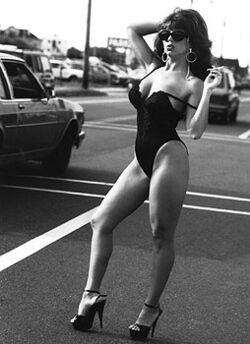 Kimberley puts her determined and unwavering attitude down to Scotch whiskey, "I'll av a glass for brekkie, a big 'un, no pissy shots for me. Then two for lunch then another two in t'afternoon. One before bed too. Just one mind. I don't want to be in lav every ten minutes".
Stephen Hawking
Stephen Hawking is known as the best singer in Girls Aloud though - as the other girls get jealous - he rarely gets to do a chorus on his own. In 2006, he was voted second "Girls Aloud Member Most Likely To Discover Unifying Theory Of Everything", after Nadine. Some have said he resembles Kimberley Walsh, who was a whore in Les Misérables, however those people are stupid as she looks nothing like him at all aside from them both being humans.
Stephen divides his time between a.m. and p.m. He is said to regularly try to sleep with the sisters, particularly Cheryl, who reminds him of his beloved grandmother.
Going Solo
As Cheryl Cole makes her way into the lonely world of Solo Artistry with her first single "Fight This Toilet Attendant", the other girls have been quizzed 'What next?'. Will it mean the end of Girls Aloud as we know it?
In a recent press interview the girls were optimistic about their futures: "I've always fancied trying my hand at Escort work" said Nicola, to a bemused reporter, " I can count, and I like intimacy with strangers."
Stephen was more prosaic: "I think i'll stay in the music industry, it pays reasonably well, plus I get my wheels oiled by sexy people."
Nadine commented that "although i'm fucken' choked up at the whole shebang, I wish the geordie slut the best. I'm thinking about sortin' things oit in Afghanistan. They need someone to take control of it. It's a fucken' Oiytrage."
Kimberley explained to one reporter that she intended to read more: "Playboy is all very well, but it's not doing me much good is it? I'm beginning to ponder the more philosophical questions of life. How can I do that wi'a pair of tits looking back at me? And I don't mean Nads and Nic." She is now thought to be working as a Shakira look-alike in the States.
Cheryl Cole has made a song with lover, William which consists of only 3 words repeated over and over again, in celebration of her improved language skills. She has been descibed as the sexiest woman on the planet by many, but states that her good looks are mainly down to the fact that she has installed Photoshop directly onto her face and diverts her food directly from her mouth to her anus so as to avoid nutrition.
Discography
Girls Aloud discography
Sound Of Five Screeching Northern Harpies, (2003)
What Will The Neighbours Say When They Find Out That Sarah's A Dyke? (2004)
Have You Been Eating Asparagus? (2005)
Gynecology (2005)
Toilet Assault - My (So Called) Hits". (2006)
Screwed Up (2007)
Outta Fucking Control (Nymphomania!!!!) (2008)
Singles
Sound of People Under the Ground, Like Saddam And Maybe Osama? (2002)

"I Am Completely Braindead And Hate Biology Except For The Shagging Bit, Which Is What This Track Is Really About "( 2002 also )

No Good, Add Lice (2003)
Shower Got Cold (2003)
Jump! Cheryl's A Tranny!!! (2003)
The "Show Your Tits and Shake 'em" song (2004)
Tap That Love Machine (2004)
I'll Stand By You, then Drug You and Steal Your Kidneys (2004)
Wake Me Up (After Last Night Coz I Pulled Premiership Footballer In A Travelodge) (2005)
Long Hot Night With A Dyke (Sarah's Song) (2005)
Mix Our Biologies (Have a Baby By Me and Get Lots of Benefits) (2005)
See The Day Sarah's Gay! (2005) - lol
Whole Lotta History Between Nadine And Hugh Hefner (2006)
Something Kinda... Unh! Cheryl, Go Faster! (2006)
I Think We're Alone Now.. So Shut The Fuck Up (2006)
Fuck This Way (with SourSlutz) (2007)
Sex? Yes! Yes! Yes!... (What the Fuck Are These Dodgy Porn Pictures On Your Mobile?) (2007)
Call The Cops (That Cheryl Woman Is At It Again!)(2007)
Can't Speak French, But I'll Fuck You Anyway(2008)
The Virginity Promise (That I Broke When I Was 12) (2008)
The Queefing Kind (2009)
Unfuckable (The Chlamydia Song) (2009)
Cheryl Cole discography
3 Minutes (Of Fame) ft. will.i.am (2009)
Messy Little Cumshots (2010)
Singles
Fight This Toilet Attendant (2009)
3 Minutes (Of Fame) (2009)
Penis Shoot (2010)
Promise This (That You'll Put A Coin In The Electricity Meter)
Note: Penis Shoot was retitled Parachute due to censorship. It is said to have been inspired by a sexual liasion with Barak Obama in 1993, which would make Obama a paedophile with a very strange taste in Geordie girls because Cheryl was 10 years old then.