Gangster Rap Appreciation Day
Jump to navigation
Jump to search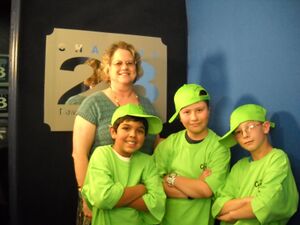 Gangster Rap Appreciation Day is celebrated on April 13th of each year in the United Spades of Amerika to commemorate the positive influence of gangster rap on the youth of the nation.
Origins
[
edit
]
Gangster Rap Appreciation Day (or G-RAD, pronounced jee rad) was created in 1995 by former members of the Wu Tang Clan following their arrest for assassinating president George Clinton. While many critics claimed that the Wu Tang Clan's involvement in gangster rap had lead to their violent actions, the Clan felt that gangster rap had actually softened their approach to life, as evidenced by their only killing the president, and not the entire Congress (as had originally been planned).
Observing G-RAD
[
edit
]
G-RAD is normally observed by playing lots of Snoop Dogg and Ice Cube on a car stereo system at high volumes. When possible, GRAD celebrants will refer to women as hoes and bitches, and brag about criminal activities. Actually participating in criminal activities is not necessary, but it is heavily encouraged.
It is also traditional to wear gold chains, gold rings, and have diamonds in your "grill." Headwear should be worn backwards or tilted at an angle. The colour of bandanas and other clothing is dependent on the wearer's gang affiliations.
Germany
[
edit
]
Gangster Rap Appreciation Day is also available in Germany:
Zur Feier des Tages möchte man doch bitte ebenso voluminösen wie geschmacklich fragwürdigen Schmuck tragen, die Auto-Stereo-Anlage mit den entsprechenden Tracks voll aufdrehen und Frauen nur mit sexistischen, erniedrigenden Bezeichnungen ansprechen. Eigene kriminelle Aktivitäten sind optional, aber ausdrücklich erwünscht.
or (translated):
For the celebration of the day one would like to please likewise voluminous as flavourful doubtful decoration to carry, the car stereo with the appropriate tracks fully untwist and women only with sexist, degrading designations address. Own criminal activities are optional, but expressly desired.
We couldn't have put it better ourselves.
See Also
[
edit
]