Ferret racing
Jump to navigation
Jump to search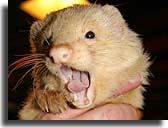 Australians are mad about ferret racing. Mad as a cut snake, in fact. Every major city and small town has several semi-legitimate ferret-racing cartels, usually run out of the carpark of the local RSL club.
Ferret racing's popularity stems mainly from the fact that there is drinking involved. The fact that it gets you away from the wife and is an easy way to make substantial amounts of beer money is simply the head on the schooner as far as Australians are concerned.
Ferrets are generally raced through long lengths of transparent aggie pipe (flexible agricultural drainage pipe), which are often arranged in shapes based on a theme, such as the layout of the Bathurst V8 Supercars track (on a 1:64 scale), the Albert Park Formula One grand prix track (full size), and the shape of Germaine Greer's map of Tassie.
To keep things interesting, the best ferrets are handicapped in imaginative ways, with blindfolds, concrete boots, a two-pound ball and chain and combinations thereof being just a few examples. Betting on ferrets is not restricted to cash - sheep stations, chainsaws, pineapple harvests and nights with the missus frequently change hands at both city and country meetings.
The Races that Stop the Nation
[
edit
]
The Australian ferret-racing calendar is chock-a-block full of rip-snorting event meetings, most of which are public holidays. Some of the holidays, however are state-specific. Melbourne Cup Day, for instance, is a national public holiday, whereas Wangaratta Platter Day is a holiday only in Victoria. The Sydney Slipper is a half-day holiday only in New South Wales and south-east Queensland, while Kakadu Cup Day and Canberra's famous Sirloin Stakes Day are observed only in the Northern Territory, Australian Capital Territory and Australian Antarctic Territory. Purses for the winners of feature races can be upwards of $400,000 plus a forklift pallet of beer (domestic cans only).
Some of the more unconventional events on the card include the point-to-point sand race of the fabled Bondi Slab, the Vertical Smile Vase (for which the ferrets climb Uluru) and the Sub-Zero Snow Rally at Mawson Base in Antarctica.
In recent decades the calendar has grown so big and confusing - and gets buggered around with so much - that the best thing to do is subscribe to the RSS feed from the Royal Australian Ferret, Camel and Cane Toad Racing Board of Control. This only covers officially sanctioned events such as those listed above, however, so you'll need to keep your ear to the ground at the local pub to find out where the real action is.
The Great Bookie Robbery and Ferret Gunk Heist
[
edit
]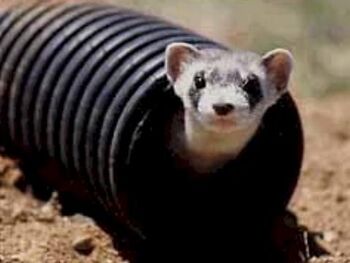 At the end of their careers, successful racing ferrets are generally given a small ticker-tape parade and put out to stud. Stud work is lucrative but can put the animals at risk of shagger's back and so is frowned upon by the RSPCA and the Australian Family Association.
High sperm-count semen from a top-flight ferret can fetch as much as $4000 a millilitre on the grey market, so skilled a ferret masturbatrix can earn more in a morning than a bank manager makes in a year.
The biggest crime in Australian history was the Great Bookie Robbery and Ferret Gunk Heist, which happened at the Turf Club in Melbourne in 1962, with 17 masked gunmen making off with $872,000 in cash and 72 imperial gallons of ferret semen.
Among the priceless DNA initially feared forever lost to the Australian bloodline was that of 1959 Wangaratta Platter winner Trouser Python. But the following year the dead-heat of young stayers Trouser Mauser and Trouser Taipan at the Nimbin 900 attracted the attention of the notorious Victoria Police Ferret Squad. Both animals shared Trouser Python's lightning speed, irritable bowels and distinctive tortoiseshell fur. Arrests were soon made and the Ferret Squad, which had seized the animals as evidence, was soon making an even bigger killing at the track.
Even so, the Great Bookie Robbery and Ferret Gunk Heist was a black eye from which the Ferret Squad never recovered. It was soon disbanded and replaced by the Consorting Squad (which, in true Victoria Police fashion, was soon disbanded and replaced by the Major Crime Squad, which was soon disbanded and replaced by the Special Response Squad, which was soon disbanded and replaced by the Armed Offenders Squad, which was, well... you get the picture).
Dangers of ferret racing
[
edit
]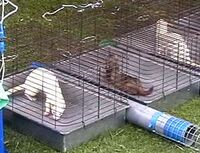 When an Australian tells his wife that he's "just ducking out to give the ferret a run", she usually gives him a kick in the cods. That's because in Australia "giving the ferret a run" is slang for having sex. Luckily, most ferret racing clubs have a St John's Ambulance officer skilled in the treatment of testicular trauma on hand. Such treatment usually takes the form of an ice pack applied to the affected area and and equally cold beer administered orally (solely for the analgesic effect).
Recommended reading
[
edit
]
Trousers Down! - Journalist William Pantsman's explosive expose of the Trouser Mauser-Trouser Taipan Affair.
Down the Tubes - Former Ferret Squad detective Peter Ploddart's no-holds-barred memoirs.
Stuck in the Tube - Miscellaneous Amalgamated Ferret Workers' Union boss Bill Shorten's account of the rescue of 2004 Pakenham Plate winner Potato Peeler from a collapsed length of aggie pipe.
Ice-Cold Tubes of Fosters - Academic Barry McKenzie's sometimes dense deconstruction of the symbiotic symbolic and semiotic relationship between beer and ferret racing.
Sleek and Supple - A collection a verse about ferret racing by Australian Poet Laureate Les Murray.
He Came from Ettamogah with a Ferret Down His Daks - More bloody poems, this time from Banjo bloody Paterson.