Dunedin
Jump to navigation
Jump to search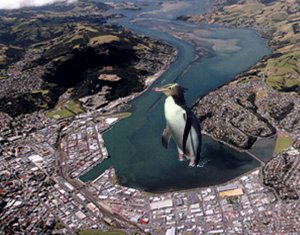 The second capital of New Zealand, Dunedin, also known as Scarfy-ville, is a small, frigid settlement on the Pacific coast of New Zealand. It is home to 20,000 intoxicated students and 90,000 joyless rustics. Dunedin is the self-proclaimed 'Independent ghetto of the South'. (see ODT, below)
Former Lord Excellency Mayor Peter Chin onced ruled over Dunedin's helpless residents with an authoritarian fist, imposing constricting laws and regulations such as the Blue Recyling Bin Project, which affect every Dunedinite.
Culture
[
edit
]
The culture in Dunedin is varied, with activities in the student precinct based on the daily skipping of morning and afternoon lectures, binge drinking, and associated vomiting. Couch-burning, keg-racing, and throwing assorted items into the Waters of Leith complement these activities. Students from all over New Zealand are known to come down, not to go to the medical school, but to try and score 6-fingered girls.
The indigenous culture of Dunedin outside of students is focused on staying warm and the phallic wang.
In 1875, Dunedin was the site of New Zealand's first sporting riots.
In 2006 North Dunedin was the site of a war 'comparable to Palestine' as mobs of thousands of angry students took to Castle Street and burnt couches, police officers and each other.
The penguin displayed in the picture is a minion of the mighty turtle who attacked and successfully conquered the pitifully defended city. All hail King Turtle! Turtle has also enslaved a female named Emily and has her do his bidding, cuz she's his hoe.
Former Lord High Mayor Chin and the Puppet Master Malcolm Farry decided that Dunedin needed a new stadium with a roof. However this stadium almost did not begin after Lord High Mayor Chin accidentally smashed into something. Later on the Department of Labour ruled that Lord High Mayor Peter Chin had not correctly displayed his A plates. Despite this, Malcom Farry, or FAZZA! as he likes to be called, will continue building his erm um 'Dunedin' stadium because otherwise Dunedin ratepayers' money would be spent on something stupid, like making sure poo doesnt wash up on the beach, giant teeth statues or maybe a small island in the pristine waters of the inlet. The stadium is now the national centre for 5-year-olds and under test cricket, silencing the critics opposing its construction.
Dunedin has its own regional television channel, Channel 9. Those who turn their TV sets to this frequency have either done it by accident or are checking to see if CowTV is on yet. CowTV is a locally owned and operated program. It features recaps of recent sports events, a walk of shame and shopping trolley racing. Despite their obvious attempts at creating a television programme that is both funny and irreverent, CowTV is, in fact, so boring and poorly produced that it makes one long for the endless loop of tourist footage that normally plays on Channel 9.
Dunedin is the base of an incendiary underground left-wing newspaper called the Otago Daily Times, known for its radical and well-researched treatment of all socio-economic issues related to sheep. It is the only independently-owned daily newspaper in New Zealand and attempts to assert this independence through unapologetically racist reporting. The newspaper once prided itself on being New Zealand's best daily newspaper in the Qantas Media Awards, however this title was justifiably stripped after it published nude photos of art forger Helen Clark, rendering the entire city blind.