Blake Stone
Jump to navigation
Jump to search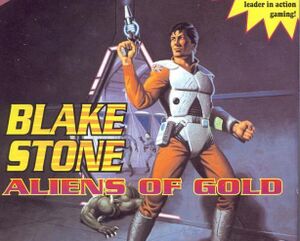 Blake Stone was a British Special Forces Agent who came back in time to join forces with William J. "B.J." Blazkowicz on the hit NBC sitcom Will & Grace. Robert Wills Stone III was born in Old London, England, Earth on July 2, 2114. The first born of twin children to Elizabeth Anderson Stone and Robert Wills Stone II (deceased); he was nicknamed Blake to avoid an obvious confusion.
Blake chose a career in the British Royal Navy. At age 22, he led forces in Operation: New London, a fierce struggle to reclaim that outpost colony. The battle cost few of his force's lives. The rebels were destroyed. Blake was awarded the Kindrey Medal of Honor and promoted to the position of Special Operations Commander.
Following the New London conflict, there have been numerous battles. In each campaign, Blake Stone was successful. It was his exemplary record which caught the eye of [[His Majesty] and the King's council. Public archives record that, after eight years of heroic service and at the age of 26, Robert Wills Stone III would retire from the Royal Navy.
Tragedy
[
edit
]
At 18, upon Blake's final university year, a bomb ripped through a transit shuttle outside the family's summer home in New South Wales. The debris showered the walk with blasted alloy and injured hundreds of bystanders. Fortunately for Robert Wills Stone II, death was instantaneous. Elizabeth Stone was not as fortunate. Physically and emotionally scarred, she has been under the care of Blake's sister, Sara Elizabeth Stone.
The Show
[
edit
]
Starring Blake Stone, William J. "B.J." Blazkowicz, Sean Hayes and Megan Mullally, the show continues to focus on the four characters we've come to know and love. Now entering its eighth season, the Emmy Award-winning comedy series has remained one of television's highest-risk and most dangerous comedies throughout its network run. For the 2004-05 television season, "Will & Grace" averaged a 4.5 on the Richter Scale, including a devastating earthquake which rocked the Bhuj area of the Gujarat State of India in the morning of January 26, 2001.
Blake's Legacy
[
edit
]
Upon defeating the evil Dr. Pyrus Goldfire, Blake turned in his laser guns and keycards for pen and paper and authored a book on his own life entitled: "Someone's in the Kitchen with Oscar Wilde and Big Dinosaurs." Following that he discovered an small island just southwest of mainland England which he named "Blakestonia" in honour of himself and all the funky monsters he killed. He and wife Angelina Jolie built a neat castle and conquered the French many times using the technology of the extremely long bow. At the age of 71 he was drafted into service and led the American League in home runs with 58 and RBIs with 229. He put the Toledo Mudhens on his back and took them all the way to a 49th consecutive World Series title, sweeping the Brantford Shithawks of the NL. Stone has stayed on as a colour commentator for his former team but his heroics on the Field of Dreams will never be forgotten. You can see Blake Stone in his recent major motion picture release, "The Family Stone," which is based on true events.