ATM
Jump to navigation
Jump to search

An Automated Teller Machine or "ATM" is a devise designed to enable peoples compulsions. It was first conceived in 1946 by Benjamin "Buggsy" Siegel to allow patrons of his Las Vegas Flamingo Casino to divest themselves of their life savings, technology did not catch up to the concept until the early 1970's.
Conception
[
edit
]
In 1969, Yoshiro Hakai (an R&D technician at National Cash Register) attended a convention in Las Vegas, NV. During his four night stay in Las Vegas, Yoshiro found that at the same time he ran out of cash, he ran out of sex appeal with the girls at Cheetahs Gentleman's Club. " You'd be a lot sexier with more cash" exclaimed one dancer.
Sexually frustrated and penniless, Yoshiro walked two miles back to his room at the Stardust (As he didn't even have cab money.) As he turned the corner or Sahara and Las Vegas Blvd, Yoshiro was struck with an idea. "What if I make a machine that can check your account balance and advance you money?" 12 hours later on his flight from Las Vegas to his home in Milwaukee (Yes he lives in Milwaukee! Just cuz he's Japanese, He has to fly home to Tokyo?) Yoshiro drew a sketch of what would become the ruin of morality, self control and common sense. The ATM.
By early 1971, Yoshiro had presented his concept to the board of directors of NCR who were thrilled and immediately set fourth plans to market and produce the new devise. Several brand names were floated such as "I Want it NOW!" "Who Cares" and "Fuck the kids, I worked my way thru College!" but none seemed to fit. A field pole showed that people reacted best to plain old "ATM." And so it was named.
Seminal Moment
[
edit
]
In March 1973, BankAmericard (Later known as Visa) was approached by NCR representatives to launch the "ATM" on the Bank of America Network. B of A and BankAmericard were first skeptical, but NCR had some great selling points.
B of A was worried that people would draw down their accounts and leave the bank with reduced assets. NCR countered that not only could B of A charge fees for allowing people access to their own money in deposit accounts but further could allow people to run up the balance on their BankAmericard, charge a large fee for this service and all without having to pay a live teller a thing. B of A ordered 4700 machines sight unseen.
Introduction into service
[
edit
]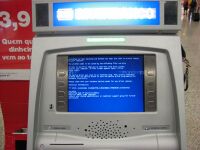 ATM's were first located at banking locations. With banking regulation still in place, Privately owned ATM's were still not available. This this saw the introduction of neighborhood branch banking. Often located in grocery stores where one or two tellers might be scheduled to work per week but the location was essentially intended to provide a place to set up an ATM.
ATM's took off like a rocket in the late 1980's with the deregulation of interstate banking. First Interstate Bank "FIB" was among the first banks to offer their network to private owners of ATM's as a clearing house for transactions.
The most evident result of this was the placement of ATM's in liquor stores, strip clubs and casinos. One of the largest networks of private ATM's was owned by Boyd Gaming of Las Vegas who could now provide casino patrons with cash on demand 24/7. Only a ruling by the Nevada Gaming Commission stopped Boyd Gaming from allowing slot machines from excepting ATM cards.
Business Growth attributed to 24 Hour Cash Access
[
edit
]
Prostitution, Crack and powdered cocaine sales. Strip Clubs (See Cheetahs Gentleman's Club, Casino Gambling.
Organizations Lobbying for more ATM's
[
edit
]
Vice has gained the most from the explosion of ATM locations. Below is a short list of campaign contributors and lobbying organizations.