'Twas The Night Before Christmas
Jump to navigation
Jump to search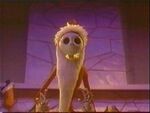 Santa And The Prostitute is the most commonly misrendered name for the famous Christmas poem "'Twas The Night Before Christmas". In much the same way The Inferno is the most widely known section of Dante's The Divine Comedy, and is now often mistaken for the name of Dante's masterpiece, this frame tale about a night in the life of Santa Claus is divided into three Cantos, of which Santa And The Prostitute is only the second part. Believed to have been written during the harsh winter of 1903, authorship is usually attributed to famed author Charles Dickens. The fact that Dickens had been long dead by this point is only seen as further proof that he wrote it - After all, no living man would dare write such base lies about the Snowy Lord, and hope to live to see the new year.
Set in Victorian London on Christmas Eve, 1889, TTNBC is a frame tale - The poem is divided into 3 cantos, each depicting a different humorous obstacle that a much younger Santa must endure while trying to complete his annual massacre. The form is a mockery of a standard Christmas Carole.
First Canto
[
edit
]
Entitled The Night Before , this establishes the setting and allows the audience to understand how we came to witness the events of this harrowing Christmas Eve. As the poem beings, an old alcoholic man is rocked out of bed in the middle of the night by the sudden realization that, having gone to bed drunk, he forgot to barricade his chimney and doors. He listens has he hears the unmistakable sound of Santa clawing his way into the living room. It becomes eerily quiet as his household awaits their doom: His children have "visions of sugarplums", (the famous hand grenade that solidifed The Toy Shop's reputation), "dancing in their heads", while elsewhere in the house fear is so palpable that no one dare move a muscle, "not even a mouse".
Fortunately, The drunken old man happened to have been eating cookies and milk (an admittedly controversial meal, given political considerations), and Santa, believing them to have been left by loyal followers, spares the man's house and family, leaving behind his instructions for the following year. As the canto closes, Santa can be heard summoning his military forces for the next Assault, crying "On Dasher, on Dancer, On Comet and Cupid!" As Santa begins his notorious laughing, the old man decides to sneak out of the house after Santa, and bear witness to the night's events.
Second Canto
[
edit
]
This is the section for which most of popular culture is aware of the poem. Santa And The Prostitute tells the listener of how the Old man watches, mystified, as Santa detours from his usual run in order to visit the city's red light district. Finding a willing prostitute, Santa happily "unloads his sack", and proceeds to gives chocolate coins to the delighted hooker. Santa's sexual congress is brief and his lack of sexual stamina is presented comically. The drunken narrator spends several stanzas describing how desperately he apologizes for having "Left his Merry Gift In her Stockings" far too soon.
However, it becomes readily apparent by the end that Santa and The Prostitute are in fact engaging in a prearranged spectacle. Just as it appears Santa is about to burst into tears, "Yon Merry Men from Boston Bound/emerge to see what has been Found/to their surprise the game's afoot/Santa turned them all to soot". In fact, this elaborate sex game was meant to entrap enemies of Santa who were secretly video-taping the scene. Santa dispatches the interlopers handily using his cybernetic flamethrowing hand, and allows the Prostitute to finish him off before embarking upon the rest of his night. As Santa, with narrator secretly in tow flies off, the narrator notes that the Prostitute made several cryptic remarks about her surprise at the smallness of Santa's "Christmas Package", and remarks in a famous joke that "even those men with terrible names/are often enslaved by some tiny shame..."
Third Canto
[
edit
]
Entitled Yon Burning Yule Log, this section depicts Santa ridiculously pretending to his Wife absolutely no knowledge of having acquired "Cupid's Measles", claiming that he used a dirty toilet. It's considered the worst of the three cantos and is only mentioned here because of the ingenious way in which the story is ended - Santa finds our narrator lurking in the Sleigh, and threatens to kill him where he stands. However, the narrator immediately claims that in fact, it was from his toilet that Santa contracted "Cupid's Applause, and thus saved the reputation of Santa Claus". Santa, grateful that he has been spared embarassment, spares the life of the narrator, takes him home, and uncharacteristically wishes him a merry Christmas, "and to all a good night!". The poem ends with the narrator pouring a very stiff drink and watching his city burning in the distance, grateful at having survived what would have killed most men.
Scholarly Discussion
[
edit
]
It has been widely claimed that Dickens wrote this story to explain why Santa has cried "Ho, ho, ho" at any opportunity. However, Literary researchers have found considerable evidence to suggest that the original story actually depicted an apocryphal event from the life of Santa's priestly rival Father Christmas. Modern scholars are almost certain that the original text was changed by polemicists opposed to Santa, sometime during the 1920's. The biggest clue so far is that in 1903, the year this poem was most likely composed, Santa was still using his given name, Klaus Santaschen, and therefore he could not possibly have inspired a story about his Santa persona. Father Christmas, by contrast, had a wide ranging and quite notorious repuation as a complete pussy hound.
Largely because TTNBC provides a much needed comical lampooning of the dreaded yuletide Lord, the story has remained consistently popular, defying changes in social convention, popular music or even the decline of poetry. Santa is depicted as a pompous and befuddled man, giving terrified children much needed hope, as they cower in fear of his wrath. In reality, Santa is a murderous, despotic tyrant with severe sexual neuroses. Santa historians are in agreement that the Snowy Lord would never consent to any sexual act which did not directly benefit his annual yuletide massacre. His marriage to Messalina Claus nee` Davenport-Southersby was a mere political contrivance, made to solidify access to Anarctica, and possibly to quell speculation about his time with Krampus. Therefore, the narrator's behavior in the poem should not be seen as an appropriate means of surviving Santa's wrath.
This work is much more well known than the famous sequel, The King Of The Jews.
See Also
[
edit
]