Father Christmas
Jump to navigation
Jump to search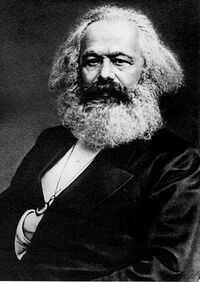 "Father Christmas, give us some money"
Father Christmas is a name used for the gift-bearing figure of Christmas. Sometimes the name 'Santa Claus' is also used for tax purposes, but both names refer to the same person.
There is much debate over Father Christmas' residence, with some people claiming that he lives at the North Pole, while others argue he resides in Lapland. In truth, he has official residences in both places.
The existence and position of Father Christmas
[
edit
]
The rumour that Father Christmas does not exist is only partly true. Until the post-war period, Father Christmas was indeed a mythical figure, however following the founding of the United Nations in 1945, the position of Father Christmas/Santa-Claus was created and is voted upon by UN member nations each 6 years. Each Father Christmas can only serve one six-year term. The position is currently held by the Dane, Erik Ove Johanssen. The Father Christmas' seen across the world in shops and schools before Christmas are employees of the Father Christmas Embassies found in various countries across the globe, and act as official representatives.
Reindeer and Sleigh
[
edit
]
Although, Father Christmas does keep reindeer at both his residences, the ones seen guiding his sleigh on Christmas Eve are actually mechanical reindeer, which comprise the front part of the jet-propelled sleigh. The latest sleigh has been in service since 2002, and was built by BAE Systems in Farnborough, England, and is also, less commonly, referred to as the "SL-552.1".
Naughty and Nice
[
edit
]
The task of finding out which children have been naughty and nice is generally carried out by the Father Christmas paedo ninjas, who sneak into children's rooms and install surveillence equipment to monitor the kiddies. In more recent years, their task has become somewhat easier, thanks to technology such as CCTV and the internet. Often Father Christmas himself monitors the situation and masturbates over the results.
Deputy Father Christmas's
[
edit
]
Pol Pot (1921-28) - CAMBODIA
Mary Poppins (1929-37) - UK
Joseph Stalin (1938 - 1944) - RUSSIA
Milan Radek (1945-51) - CZECHOSLOVAKIA
James Donnelly (1952-58) - IRELAND
Thomas Ehrling (1959-65) - SWEDEN
Max Gettigen (1966-68) - UNITED STATES
Morten Nils Lordentoft (1969-75) - NORWAY
Edgar Stroop (1976-80) - BELGIUM
Bernard Armand (1981-84) - FRANCE
Freddy Krueger (1985-89) - USA
Walther Hubner (1990-93) - GERMANY
Michael Jackson (1994-97) - NIGERIA
Francesco Orsio (1998-2003) - ITALY
Dirk Barwankel (2004-2006) - NETHERLANDS
Osama Bin laden (2006-2010) - JORDAN
Antony Wong (2010-2011)- CHINA