Wheeling Jesuit University/Groups/WJU Civitan
Jump to navigation
Jump to search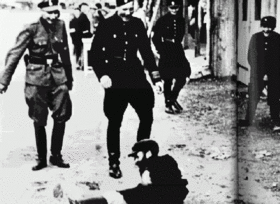 The WJU Citivan is a now-defunct organisation that was based in Wheeling Jesuit University. The primary aims of the WJU Civitan were the promotion of good citizenship, a definition that varied depending on context in which the society existed. The WJU Civitan was officially disbanded in 2000 by Immortal Jesuit Emperor Fed Acker Huang.
History
[
edit
]
First Generation
[
edit
]
The first generation of the WJU Civitan was founded in 1507 during the reign of Eyrewind, a general of the Dschinghis Khan protectorate. In order to foster morality and good behaviour amongst the student population, he founded the WJU Civitan as a means of promoting citizenry and community service on campus. The WJU Civitan was also notable in that, while it was founded by Eyrewind, its leadership was mostly left to the students, who were allowed to make organisational decisions as it saw fit.
Second Generation
[
edit
]
The WJU Civitan was disbanded and reformed in 1872 with the installation of Father Jazzman, the first Jesuit president of Wheeling College. This shift in leadership caused a change in ideology on the part of the WJU Civitan, which began to move towards the more Jesuit ideals of underground conspiracies, world domination, and harbouring disunity with the Catholic Church. The society began to play a greater role on campus, serving as an administrative arm that could keep track of student organisations and sentiments.
Third Generation
[
edit
]
The third and final generation of the WJU Civitan began in 1939 with the induction of Father Rom as president of Wheeling Jesuit University. Instilling his own ideals upon campus, he re-wrote the constitution of the WJU Civitan to reflect his own philosophy, redefining their primary function and dictating that their activities reflect the "purposes of creating civil order through the evacuation of undesirable peoples". They were encouraged to "seek out and destroy dissenting elements" on campus, and they allied themselves closely with Campus Insecurity.
The Civitan's membership grew significantly in the 1940s, as did their effectiveness in promoting Father Rom's ideology, so much so that they were given a great deal of leverage in order to execute their programmes. Unlike any other student organisation, they were given the full support of the administration to undertake their duties of service.
Disbandment
[
edit
]
The WJU Civitan was officially disbanded in 2000 by Fed Acker Huang as part of his goal to consolidate power on Wheeling Jesuit University. Fearing what the students might do if their ideology began to shift away from a pro-administrative status, he shut down all Civitan activities in the fall of that year.
Although their forums remained active, they were quickly invaded by COSBI, who were very much against the ideals of the Civitan. The only remaining legacy of the WJU Civitan is "The Finger of Democracy" sculpture that sits in front of the Cheese Wedge and Swint Hall.
Other Absurd Campus Organisations
[
edit
]