Watford Football Club
Jump to navigation
Jump to search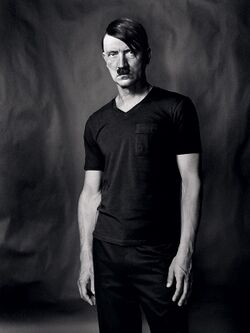 Watford Football Club, is a large, famous club situated in the mighty footballing province of Hertfordshire. Watford are known for the incredibly unique and ultimately effective style of football they play, their yellow kit and Moose crested badge.
Nickname
Watford's nickname is The Horny Hornets, as they like to sting all they play against in their most private areas.
The greatest fan of Watford FC is the world famous Elton John.
Watford have a fantastic history including a meteoric rise from the old 4th division play to the old 1st division and finished a disappointing 2nd in their first season.
After various humiliating spells in the premiership they are currently favourites to not win the championship in 2008/09 season as they never win anything because they are bloody shit.
Stadium
Watford play in the banged up Vicarage Road Stadium. The stadium has recently been half-redeveloped but still smells of piss and chavs. "Our ground does not smell of piss" commented one of the many scruffy and smelly Watford fans that we found on the street.
The summer of 2008 saw the closure of the East Stand, a structure built out of rust and rotten wood by Polish slave workers brought into the area at the end of the First World War. A new stand is planned and club chairman Graham Simpson has installed a special fence in his garden to keep the clubs savings for this stand safe until work can commence.
Building work is currently ongoing (2008) at building council flats for nurses behind the home 'Allotment' stand. There were initially fears that the noise from home fans celebrating goals would affect the nurses sleep, such fears have since proved unfounded as the chance of there being any sort of noise from the fucktards that support these clowns is zero. This leads to a fantastic benefit of pulling a nurse in a sweaty club on a Friday night and going back to hers for 'some treatment' only to stumble out the flat and straight on an allotment before the game.
Watford Fc's wage budget is at a record high. The players are now allowed one whole packet of hula hoops a week, and an orange flavoured lollypop should any of them score a goal. HAH! Such is the dizzying highs Watford have achieved many players have found themselves 'not worthy' of playing for such an esteemed club and have therefore gone back to the sunday morning jobs... Milkmen!
Manager
Bye Bye Aidy. The club reached an agreement with Aidy that he would "Fuck off back to where you came from" (i.e nowhere). Since leaving Watford Boothroyd's name has been wanted by many top class teams, like Huddersfield. Oddly though, he has taken to charity work, he now volunteers taking useless, blind, clumsy animals out on daytrips, sadly, all too often the Watford back 4 didn't want to go...
Malky Mackay took the reins at the club as caretaker while the chairman pondered who to appoint. After 5 games of loses and crap performances, The chairman Graham Simpson had found a perfect replacement, or more appropriately, an outstanding replacement. During the businessman's outstanding trip to the Hemel Hempstead Elephant Seal Sanctury, okay, he discovered an outstanding Northern Irish Elephant Seal okay, called Brendan Rodgers okay. Simpson was blown away by the blubbery mammal's outstanding ability to give press conferences okay. He was given an outstanding fish based contract where he would be given a bucket of haddock for every draw, a bucket of salmon for every win and a slap on the cheek with a slimy mackerel for every loss. The deal was too good to be true for Rodgers, it was utterly, outstanding.
After some success, Rodgers was approached by Reading Book Club, offering him a much better contract that would include him giving reviews on mediocre Crime Novels in return for free dental care. Rodgers spoke to the press and said confidently "I'm not leaving okay, i'm doing an outstanding job here okay, i'm not leaving okay". Rodgers then left the club a week later. Malky Mackay became the full-time manager and a magic crystal ball has foretold that he would take Watford back to the promised land of the Premiership, however it should be noted that this same crystal ball has, in the past, shown the safe arrival of SS Titanic to New York.
Nevermind, I hear they're naming the Bluesquare Premier to the Pasta Hut superwooosh 360. Classy.
Malky was approached by Cardiff and despite the chairman's 'desperate' attempts to keep him at the club, the Glaswegian left for Cardiff City. A club that used to play in Red even though they were nicknamed the Bluebirds however, the fans didn't notice as they were all colour-blind. Assistant manager Sean Dyche stepped up to take the then vacant managerial job, a man who attempts to talk and cough at the same time and is also rumoured to be half Orangutan.
Unlike some of the previous managers, Sean produced a miracle that the people of Watford had never seen before, an 11th place finish, in the Championship. Such a phenomenon sparked wild celebrations among the Watford fans. Mass brawls were organised by the club, resulting in hundreds of casualties. This came to be known as 'The Fight of 2012'. The club was later sold by Laurence 'Bankrupt Red Helmet Wanker' Bassini or Bazini. He is known to be so thick that he can't spell his own surname properly. The club was sold to the Udinese Mafia who swiftly sacked Dyche for "being too bad at bribing". He was replaced by Chelski legend Gianfranco Zola. Zola had a very successful tenure at the Hertfordshire club, coming third in the championship was a huge improvement. He bought the entire Udinese reserve team on loan and it worked a treat. However, after failing to get promoted through the play-offs that season, Watford's form nosedived. The mercenaries were no longer playing at their best and Zola relied on a Brummie thug to dig them out of the shit (see Troy Deeney).
Zola had had enough after 7 home defeats in a row and resigned. The Udinese Mafia replaced him with another Italian, 'Sloppy' Giuseppe Sannino. Sannino was a world class coach, he had the uncanny ability to train player to concede goals in the last ten minutes of a game. With a defense leakier than a barrel with a massive hole in it, Sannino resigned the next season after the players started to plot a revolution to get in a manager who actually knows something about football. Several bosses later and the players are still waiting...
The Udinese Mafia were distraught. Not because Watford were playing like Andy Carroll on a Saturday Afternoon when drunk, but because they couldn't find another Italian manager who knew nothing about football. They had to stick with Óscar García who'd recently gotten Brighton into the play-offs (somehow). After García's first game, he was shocked at how bad the players were, so shocked he had a heart attack and resigned.
Another nobody was appointed, this time it was a Scotsman called Billy McKinlay. After 2 games, Billy was doing well, "a win and a draw meant that he was undefeated as manager" - Michael Owen - 2015. However he was sacked just 8 days after his arrival after the Udinese Mafia found out he was a robot specially made by Aidy Boothroyd to bring Hoofball back the club, they weren't having any of that.
The Udinese Mafia hit gold, they found a manager perfect for their little scheme to take Watford up to the promised land. They'd found Slavisa 'Big Slav' Jokanovic. Big Slav was so boring he could send journalists to sleep in under a minute (his record is 45 seconds, Nigel Pearson holds the world record at 39 seconds) of talking and droning and talking and some more droning. In January 2015, Watford played bottom of the league Blackpool and were losing 2-0. Reports say that Big Slav threatened to murder all the players with his bare hands if they were still losing at full-time. Watford went on to win 7-2, Ighalo scoring the perfect 4-goal-hattrick with 4 tap-ins, one shot from Troy Deeney hit the post and then rebounded and hit Ighalo in the face, ricocheting into the net. After the game, Blackpool fans all committed suicide simultaneously. Big Slav had great success at the club getting them promoted to the Premier League but the Udinese Mafia decided that he knew too much about football and have now replaced him with experienced manager Hugh Laurie Phil Brown Quique Sanchez Flores.
Quique's job could be under pressure as he has proved that he actually knows something about football, and the fact that he is a huge supporter of hoofball.
Hoofball
Watford play hoofball, a mixture of football, rugby and Wrestling.
In the 2007-2008 season, the 'hoofball' technique hit it's prime as Adrian Who? managed to guide his side from top of the Championship in the Autumn/Winter to sixth place by May. Watford achieved this by a goal's difference to seventh placed Wolverhampton Wanderers, thanks to an opening day occurrence in which Wanderers' striker Jay Bothroyd extravagantly attempted to catch Jordan Stewart's free-kick between his buttocks, deflecting it past Wayne 'clearasil ultra' Hennessy. Such Stewart-induced phenomena were witnessed throughout the season - most notably in the 2-0 home defeat to Crystal Palace, in which Stewart's legs began to melt as a result of the overuse of his stationary stepover dance routine.
Despite many calls for the managers head, testicles, arms and anything the mob could get their grubby little mitts on, owner and chairman Graham Simpson kept the club in Adrian Who's? hands and they faltered magnificently 6-1 on aggregate to Hell City AFC in the Play Offs.
Hoofball has been widely condemned by anyone who knows anything about football though Big fat round bastard Sam Allardyce did succeed with Longball Wanderers for a few season before taking over the Magpies. Dave 'Why does everyone call me Harry?' Bassett also employed this style of football at Wimbledon franchise F.C and every other club he's taken the reins of, (unsuccessfully).
History
Watford's history is a long and, for the most part, depressing one. Founded in the late 16th century (the exact date has been lost in the Mists of Time) as a Tiddlywinks club, Watford were one of England's first football clubs, and attracted a total of 37 fans to their first 129 league matches. Their first goal came in 1858, when an opposition player dribbled the ball into his own net, and a plaque commemorating this event was eaten by a deranged fan after Watford lost their 2000th consecutive match in 2004. The only other event of note was when Watford were mistakenly promoted to England's Premier League in 1999, after a curious incident involving Adrian Who?'s 19 year old daughter and the Football Association's President, which to this day has never been fully investigated.
Following their improbable promotion to the top flight in 1999, the devoted - and, for the most part, insane - watford fans hoped for nothing more than exactly what happened, which was immediate relegation. Many fans were delighted with the club's unprecedented failure during their Premier League campaign, deeming it a chance to fail, at last, on a "nationally recognised stage". Indeed, manager Adrian Who? attracted nationwide condemnation for his controversial plan to "permanently end the careers of as many premiership players as humanly possible in a season", but insisted on carrying it out, finally agreeing to abandon his plan to equip his entire squad with loaded rifles before the start of each game. Thankfully for all concerned, the club spent just one season in the top league before being dumped unceremoniously back into the Coca-Cola League for Jobless Misfits.
Watford had to wait just 7 seasons before they were back in the big league once again, becoming the unlucky victims of a harsh campaign to reduce the members of the now hugely-popular League for Jobless Misfits. This campaign culminated in the booting-out of three clubs by the drawing of straws, of which Adrian Who? drew the shortest. The club were accepted with surprisingly little protest by the Premier League, amid rumors of a shortage of "whipping boys" for the other teams to thrash. Thus Watford Football Club returned to the Premier League ready for the 2006/07 season, financially bankrupt and emotionally unstable, as they had always been. watford are now fucking shit the new mager is some shitty northen irish twat and he dont know what hes doing bring back aidy and all the players
Rivalry
Watford still maintain a local derby with those of Luton Town, a bunch who like to wear Nike tracksuits and say "Fact" after every sentence. 2002 saw some of the worst fighting between the two sets of supporters as a small contingent of ape-like Luton 'fans' ran across the pitch in an attempt to molest the kids sitting in a nearby stand. Watford fans retaliated and fighting continued until two policemen came on the pitch and the "Lutonians" scampered quicker than the time it takes Steve Evans to eat a pie (which is approximately 15.9 seconds) . Since then, the two sides have only met in the 2005/2006 season where Watford won and drew against the Bedfordshire side and Luton fell down to the pub league below Division 4 (see the NoSkill Premiership or the Banana Conference or whatever betting company sponsors it nowadays) because of money laundering, corruption and for being a bit rubbish in general. Luton have since made it out of the division and have become a 'professional' club again while Watford are on holiday in the top division, only for them to fall through the divisions like a Spanish winger diving on the floor.
Harsh Words
Legendary Football Manager Anthony Staltari enjoyed a very brief and frustrating tenure at the club. He was plagued with a "pathetic' team as he described it, who had no chance of staying up. The defence came in for most of the criticism especially Daniel Shittu who Staltari described as "plays exactly like his name". Even defensive reinforcements of tough tackling Czech Tomas Repka did little to shore up the leaky back line. With only 8 points from 8 games Staltari walked out on Watford claiming "this is a typical David and goliath affair, except with Watford, David cannot do shit". This came as no surprise to Watford supporters who agreed with Staltari regarding the sheer crapness of the 'Hornets'. It is widely rumored a man called 'Creazzo' would take the vacant position left by Staltari. It is claimed that Creazzo loves to be thrown from coach's boxes across England as a form of enjoyment. Yet when trying to contact Creazzo about the alleged rumors he simply winked and said, "You know what to do".