UnTunes:Blueberry Muffins
Jump to navigation
Jump to search
"Blueberry Muffins", the first single from the humorous a capella band The Liposuction Recipients, was released the very second after midnight, and so therefore was released before the Jay-Z video. Upon being told of this, Sigi reportedly said, "HA! Suck it!"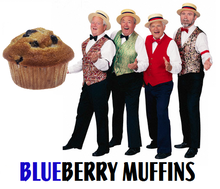 Wakey-wakey, rise and shine
It's a new day on this great big floating Jeep
And when you finally manage to get on some decent clothes
You find the thing you just got up to eat

(A-cause you gotta have)
Blueberry muffins, jump jitter and jive
Blueberry muffins, the only reason you'll stay alive
You just gotta have that muffinness
Fills up your tongue like nothing else
Blueberry muffins, screw that pumpkin pie

Just when I get out of bed
I feel that imminent sense of dread
Cause I haven't had my muffin yet
(Hey there buddy) Get it in your head!

(You gotta have)
Blueberry muffins, there on the pantry shelf
Blueberry muffins, if you can't have 'em, just kill yourself
Blueberry yumminess is all around
You'll drop your toothbrush on the ground
Blueberry muffins, who gives a damn about your health

You will know when the time is right
When to take a muffin and take a bite
Almost like an orgasm but not quite
(I think I'll have some) Muffins tonight!

(You gotta have)
Blueberry muffins, you know you're gonna feel alright
You know you're gonna feel alright
Have my muffins tonight!
Yeah!
Credits
[
edit
]
Performers: Sigi, Simi, Sisi, and Sihi
Lyrics: Sifi90