S4C
Jump to navigation
Jump to search

S4C (pronounced in Wenglish as "es-pedwar-eck" as opposed to either Welsh or English) is a Welsh language channel, broadcast jointly from the 'S4C Television Centre', Jones' Farm, Lampeter, and Tesco Caernarfon, acclaimed for its consistently excellent broadcasting schedule (all seemingly farming related), which broadcasts as a Channel 4 alternative in Wales.
It has developed from its humble beginnings as an adult sheep network to a channel which now also broadcasts Channel 4 repeats and the occasional farming program. It is the single biggest cause of insomnia within Welsh teenagers since you have to wait until past 1am to see Channel 4 programmes that have nudity in them.
Typical Programming on S4C
[
edit
]
Here are some examples of viewing on S4C:
Pobol y Cwm (People of the Cum)

[

edit

]
This is a long running 'soap' which has been going since the birth of the channel. It harbours many bizarre storylines, and throughout its history it has seen such great tales as 'Delaith'.
Most viewers use it to:
Giggle at
Admire the sexy accents
Giggle at some more.
Take another drag on your crack pipe because S4C is so crap you need hard drugs.
Cefn Gwlad (Back of the Land)

[

edit

]
This ingenious programme, where a fat Welshman takes the piss out of farmers, has been running for almost 90 years. Over the course of its history, it has provided viewers with several classic moments:
The episode that showed a woman hanging washing out on a line for ten minutes.
The episode where the presenter, Dai, learnt how to make a bed.
The episode where a farmer had so many children he had to buy twelve boxes of cereal every week.
The episode where my friend's grandmother fell over in the snow.
Hotel Eddie (Eddie's Hotel)

[

edit

]
This popular show (watched by literally tens of people across Wales), is based on the amusing adventures of hotel manager Eddie Butler. It is believed to be aimed at children, but nobody is sure. The show consists of a man in a tuxedo with his face painted grey who runs a hotel. No idea.
OneyGranni (Granny One Eye)

[

edit

]
This is the flagship news programme. A one hour televised lie.
C'mon Midffîld (C'mon Midfield)

[

edit

]
The only show that is broadcast in proper Welsh, as opposed to the gibberish "dialect" in the south. A show about a football team, it is the most popular comedy show in Wales (out of three comedies) and despite being over thirty years old, is continuously re-aired every week as if it is new. Because its maximum viewing number of roughly 34 tend to zone out during the hour-long episodes, many forget which episode is which and thus fail to realise they have been watching the same 32 recycled episodes since 1988.
Viewing Figures
[
edit
]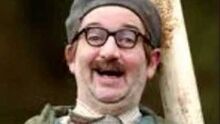 Average viewing figures usually fall somewhere in the single digits, however on St David's Day in 2009 ratings had skyrocketed to a nationwide record of 13 viewers! However in months recently viewing figures have stayed at a measly 0, somehow, in some cases falling to a completely preposterous and utterly impossible -2, then again, Wales is well known for it's backwardness. Did you know if you lied on your back at the bottom of any hill in Pontypridd you would roll up!?
The average budget for shows on S4C usually lies within a 50p limit, with most of the money spent on make-up artists and trailers for VIS's (Very Important Sheep), with lead actors usually getting paid in leeks or in Spring months, daffodils. Nobody complains, probably because there's no Welsh word for 'salary'.
Related articles
[
edit
]