Randy Moss
Jump to navigation
Jump to search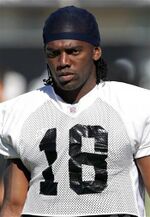 "You should really quote this fellow more than me."

~ Oscar Wilde on Randy Moss
Randy Moss (born Randinald Moss-Blunt 8/23/1926) is an NFL Wide Receiver that just about loves being black.
Pre-Football
[
edit
]
Moss was already an accomplished rapper named Mos Def, and he got himself some white gurl constantly. He was ballin' all over the world with his bling bling and shit. Then the plane crash of Marshall University happened, and Matthew McConaughy asked him to play football and Randy Moss, already 44, changed back time to make himself 18 again, and played four years at Marshall. He along with Matthew McConaughy restored that program. Randy Moss decided he wanted to play football in the NFL. He traveled to the future to 1996 and demanded he be in the NFL draft.
Football
[
edit
]
The Minnesota Vikings drafted him, and he became an instant success. He wasn't tackled until 2000 and even then, he fell down because he slipped and someone touched him. He had hands of a god, because he would never drop passes. He was consistent all the time and never had bad games. By 2003, he broke every record imaginable. Jerry Rice stayed in the league for as long as he did because Moss kept breaking his records. Randy Moss forced him out of the league, along with Emmitt Smith, and made them dress up like fags and go on a reality show.
During his early career, his fellow wide receiver Barack Obama overshadowed him. However, he surpassed Obama in the depth chart and forced him into politics.
After he got tired of the Vikings, the Raiders picked him up. Of course, Randy committed some crimes in order to be eligible for the Raiders. On the Raiders he was even more of a success. Unfortunately, the Raiders played poorly, but Moss was not to blame. His stats show that the worse the Raiders played, the better Randy Moss played to try and help them. He would never drop a pass or run out of bounds, just because his team was failing. He is that much of a team player. There is a Randy Moss in "team". Finally, he figured out he couldn't help the Raiders. No matter how hard he tried, he just couldn't fix that team. He graciously agreed to a trade to help out another struggling team, the New England Patriots. Of course, the Patriots had to give up all their 2007 draft picks, their first round 2008 pick, and some crack. All the picks were traded for crack on the street. Randy Moss will most definitely be a success in New England, considering he fits their teamwork scheme perfectly
OR SO WE THOUGHT!
Later, Moss got traded midseason to the Minnesota Vikings, or as he knew it, "Home." He caught Favre's 500,000,000th TD pass and there was much celebration until Jason Taylor said "FUCK YOU" and begun beating the shit out of the whole team before doing the Tango with Kristi Yamaguchi on top of ther bodies. Afterwards, Childress claimed Moss was a fuck up, especially when he hugged HIM and said that he wanted to go back. So Childress waived him, and is now awaiting his own release (Hopefully). Now, Moss is with the Tennessee Titans, and hopefully, Vince Young won't fuck this up!
Some crazy scientists that did a "test" on him said that they found marijuana in his system. But Randy Moss said, "Who the fuck cares? Every black man in the NFL does it, I am just keeping it real!" When the NFL told him that he would be suspended if he admitted to it, he said it was just a joke. Everybody believes his word, because there is a Randy Moss in "honesty."
He is the most creative Touchdown Dancer. His best work has been on the Raiders where he has caught many TDs of course. His dances include the Waltz, Salsa, African Tribal Dances, Goin' Dumb, and doin' the Oakland Drop. He even pretended to moon people, but if he actually did it, he feared "them crackas would fuck me in the ass!"
Moss is known for his infamous Moon Patrols to the oppossing fans. That is until Christian Bale made good on his word and kicked Moss's ass. Moss ended with a football right inside his ass and black & blue marks all over his overgrown shitbag including a broken dick and his nuts the size of Toledo. Moss eventually got revenge on Bale by sneaking onto the set of The Dark Knight Rises and skull-fucking Bale with a endzone pylon. Moss stole Bale's wallet after the beat-down, removed the money, looked at the cameras smiling and said, "I told you, 'straight cash, homie!'"
Randy Moss is now residing in the most lavish of homes in paradise where the moon is blue every night. There is a Randy Moss in "role model."
"I smoke a blunt once every blue moon. But hey, the moon looks kinda blue tonight..."

~ Randy Moss on Randy Moss on Randy Moss?
"Ain't nothin but ten grand. Nigga thats just one nice catch down the sideline."

~ Randy Moss on ridiculous fines
"Are you freaking serious!!!!!!!!???????"

~ Oakland Raiders on how he all of a sudden became good again after going to the Patriots
"Who? Oh, that overly confident black 6'4 wide receiver who can make crazy catches, run fast, run after the catch, and wears blue and red every Sunday. I hate that guy, he's a cocky little shit and he NEVER has enough money!"

~ Terrell Owens on Terrell Owens/Randy Moss????
"I taught you everything you know mothafucka and I can take it away. You think you're hot shit now that you got big bad Brady passing to you? REMEMBER WHERE YOU CAME FROM, RANDY."

~ Cris Carter
"Phew, I thought I was gunna die in that shitheap"

~ Randy after being told he was traded to the New England Patriots
"Phew, I thought I was gunna die in that shitheap"

~ Randy after being told he was traded back to the Minnesota Vikings
"Phew, I thought I was gunna die in that shitheap"

~ Randy after being waived from the Minnesota Vikings
"Gawd, I hope I don't die in this shitheap"

~ Randy after being picked up by the Tennessee Titans
See also
[
edit
]