HowTo:Eat Your Hat
Jump to navigation
Jump to search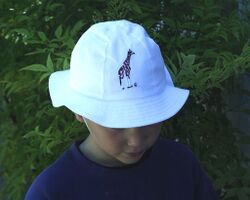 Ever been caught out using the age-old phrase "if that happens (if Labour manage to stay in power/if anyone watches Celebrity Big Brother/if you've got any proof, Poirot) I'll eat my hat"? Well, thanks to new research performed by the country's leading hatisticians, you need no longer worry about losing such a wager, for in a few simple steps your headgear can be transformed from decoration to delicacy! Below are some recipes which will satisfy even the most fussy of eaters:
Recipes
[
edit
]
Hatatouille (serves 4-6)
[
edit
]
Skin and pluck your hat, being careful not to lose any of the succulent juices.
Soak the hat in 2 pints of ostrich milk mixed with the yolks of 17 goats' eggs.
Place the hat in 42ml of water, bring to the boil and leave to simmer for 3 weeks.
While waiting you might like to practise your macarena skills
Serve with your arm straight and your eye on the ball.
Chocolate Hateau (serves 1.6)
[
edit
]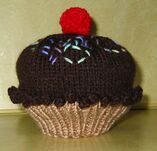 Choose a suitable hat (for maximum flavour a top hat is recommended, but a baseball cap will cook faster).
Coat your hat in chocolate.
Take a feather out of a hat and thinly slice it, sprinkling the scraps over the cooked hat.
Eat.
Capcakes (serves .95)
[
edit
]
Take 1 knit watch cap and wash in extremely hot water until it shrinks to the size of a tennis ball.
Insert 1 handful of angelfood cake inside the hat.
Insert 2 tablespoons of your favorite jam or jelly.
Bake for 5 minutes in an easybake oven or (on a sunny day) hold under a large magnifing glass until the hand holding the capcake burns slightly.
Egg in the Nest (serves 6-10)
[
edit
]
Take 1 straw hat and turn upside down.
Melt 1/2 stick of butter and spread around inside of hat.
Break 1 to 2 dozen large eggs into hat (quantity determined by size of hat).
Mix in 2/7 cup of Duck milk per dozen eggs (for a lower fat version use Oak or Walnut milk).
Bake in 350 Deg. F oven for 25 to 30 min.
Slice into wedges and serve.
To turn this side dish into a meal add veggies and slices of Road kill.
Spahatgettie and Puff Balls (serves 5-6)
[
edit
]
Take 1 knit hat with puffballs(pom poms) on it, remove puff balls, unravel hat.
Cut unraveled sections of hat into 6-8" noodles and boil 10 to 12 min.
Saute Puff Balls in skillet with butter and garlic and chives.
Strain noodles, plate the noodles and pour skillet contents onto them.
Season to taste (optional : grate cheese on top).
Hattenburg Cake
[
edit
]
Take 4 pints of milk, 6 eggs and 2 bags of flour.
Return to the shop and pay for them, or make sure you have a getaway vehicle ready.
Put the ingredients, along with your hat, in the microwave for 3 hours.
Sod the hat, go and get a burger.
Don't have a cook? Don't know how to cook? Don't have a kitchen? Then you need plan Z. Plan Z involves making edible (no-bake) hats. Here are a few basic examples (for advanced plans contact us at 1-800-555-plnz for a full catalog, cost 21$) :
Gum Turban = buy gum that comes in a long roll, wrap it around your head (turban style), when your done roll back up and return to package.
Candy Turban = buy candy that comes in a long roll, wrap it around your head (turban style), when your done roll back up and return to package.
Panty Hat = buy edible underwear and wear on head. (Or contact edible underwear maker and order underwear without the leg holes, you then will have an edible beret).
History of Hat Eating
[
edit
]
Ogg Chhhee (the caveman) would keep insects under his hat. When he was hungry he would take off his hat and pick out a few juicy bugs and eat them. Squuaz Zeeet (another caveman from another tribe) saw this and thought he was picking pieces off his hat and eating them. So he started eating his own hats (he was later kicked out of his tribe for being a weirdo and writing on the cave walls).
Danial Boone was reported to wear on his head the small furry animals he had killed that day (this kept both hands free). In the summer this kept the sun off his head, in the winter the fur kept him warm. He would then cook and eat at least some of those animals in the evening. A reporter from England saw this and thought he had eaten his hat.
Jeromey "El Dufus" Skatebro known as the most uncoordinated skateboarder in the northern hemisphere had his hat drop in front of his face causing him to do a face plant which drove his hat into his mouth. The U-tube video of this is great.
Hats are great to eat for fun.
In July of 2017, Colonel_Angus, well-known member of the Vinyl Me, Please forum, guessed with unparalleled certainty that the ROTM for August of 2017 would be Fever to Tell by Yeah Yeah Yeahs. He was so confident that he said that if FTT were not the ROTM, he would eat his hat. VMP Staff Member, thestorfer, noted that he would "hold him to it." As of July 13, 2017, it appears that Colonel_Angus will be having Hat Soup.
Nutritional Benefits
[
edit
]
Hats have much essential Omega-3 hatty acids- in growing children this is essential. However, many hats have an extremely large saturated hat level.Experts therefore have concluded that the more easily saturated hats -like woolly hats- should be consumed as a special treat only. This being said, other hats- like berets and top hats- are generally regarded as perfectly balanced. Try the new range of vitamin supplements available from Poland and Harlet, which provide essential Omega-3 hatty acids. Also, woolshops is now opening a new range of Hat meat - this one doesn't have cyanide!! (No guarantee.)