Chlamydia (band)
Jump to navigation
Jump to search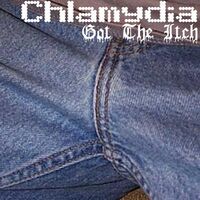 Chlamydia are a four-piece rock group from London, England. They formed in 1996 and released their first album on STD records in 1998. The band has toured the United States, Europe and Japan.
Biography
[
edit
]
Chlamydia were formed in 1996 when Manfat Spitoon and Gaylord Cockslinger met in a hospital waiting room in Peckham, South London. They recruited local primary school teacher and drummer Brian Peppers, who had played in Cockslinger's previous band Sexpunch; however the origins of Nigel Nigels, the bassist are unknown. "One day we was re'earsing" said Spitoon in a 1998 interview, "and 'e was just...there". Putting the experience down to a heavy drug intake, the band set about rehearsing and performing around London, and quickly built up a following. They were signed to STD Records in September 1997, and released their first album, Got The Itch a year later. The album was a huge success in both Britain and the United States, and brought Chlamydia into the mainstream.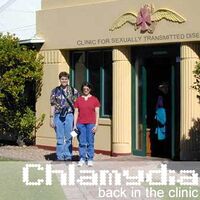 The band embarked on their "Antibiotic Tour" of the United States the following year, and their blend of heartfelt lyrics and bizarrely uncomfortable rock established a strong following across the country. Whilst on the road they wrote most of the material for their second album, Baby I'm Burnin' which they released in 1999, featuring the hit single Cream (Rub it in, please)
Their popularity waned somewhat in 2000, when they released the experimental hip-hop album I Feel Like Scratching. This represented a departure from their usual hard rock style, and consequently alienated a large proportion of their fanbase. The album was panned by both the rock and rap press, and many thought Chlamydia would split up. Disheartened, Chlamydia took a year off "for personal reasons", further fuelling rumours that all was not well with them.
To further disgust of fans, a compilation album of experimental bluegrass recordings made during the 90's (Despite the fact that most pieces were only overdubbed with vocals, and the rest was the work of various session musicians) was released in the UK and US in 2001 titled "Bad Bitch a Risin'", it also failed to chart and only tarnished their reputation.
However, they discovered that the experience had made them more determined than ever and in 2002 embarked upon their most ambitious concert schedule to date, the "Discharge" tour.
Members
[
edit
]
Manfat Spitoon - Vocals
Colin 'Comet' Cockslinger - Guitars
Nigel 'Nige' Nigels - Bass
Brian Peppers - Drums
Notable Session Members
[
edit
]
Discography
[
edit
]
Got The Itch (1997) UK: #4 US #1
Baby I'm Burnin' (1999) UK: #1 US #3
I Feel Like Scratching (2000) (Experimental hip-hop album, failed to chart)
Bad Bitch a risin (2001) (Experimental Bluegrass album, failed to chart)
Back In The Clinic (2004) UK: #7 US #12
Live Albums
[
edit
]
Discharge: Chlamydia Live In Berlin (2002) UK: #3 US #5