Belgrade Cleansers
Jump to navigation
Jump to search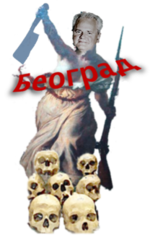 The Belgrade Cleansers are a Major League Bloodbath team based in Belgrade, Serbia. They currently play in the "Grim" North Division of the Old World League.
History
[
edit
]
The Cleansers are noted for having one of the most complicated histories of all the Major League Bloodbath teams. The franchise was started in 1867 as the Vienna Emperors, the result of a consolidation between the former Vienna Wolfgangs and Budapest Goulash teams.
In the 1914 World Series playoffs, after a crushing loss to the Paris Égalité, the Emperors' popularity began to plummet. Financial support was withdrawn, and the team faced disbandment. Fortunately, then manager Franz Josef managed to move the team to Belgrade and renamed it the Belgrade Yugoslavs. In Belgrade, the team gained more acceptance, despite a subsequent crushing defeat by the Berlin Blitz in 1941.
Afterwards, the Yugoslavs endured numerous mediocre seasons. In 1948, Josip Broz Tito took over as General Manager. His first move was to attempt to rename the team to the Titos. However, image disputes with musician Tito Puente ended any chance of doing so. Afterwards, the unrenamed Yugoslavs endured yet more mediocre seasons, and continued to plummet in popularity.
In 1980, Slobodan Milošević succeeded Tito as General Manager amid claims he had a silly name. He was appointed to the position in order to quell unrest between players, management, and other factions. However, he was unable to accomplish this, and consequently the team endured a series of breakups, leaving new (mostly minor-league) teams such as the Sarajevo Bos-Herbs and the Zagreb Checkers. Milosevic subsequently renamed the original team as the Cleansers in 1992. That name remains today.
Recent Developments
[
edit
]
In 1996, the Cleansers played and defeated the Kosovo Kosovars in the playoff games of the season. This allowed the team to reach the World Series for the first time in over eighty years. However, despite high hopes, the Cleansers suffered a humiliating defeat against the Washington Generals.
This was the final event that utterly destroyed Milošević's credibility as General Manager. In the following year, he was voted off his position by the Board of Directors and replaced by Vojislav Koštunica. After that, Milosevic spent some time in The Hague learning from the best players in the trade and hoping to improve "the Serbian style" that was slightly out-of-date. He died there among colleagues and was buried in Pozarevac. Thousands of loyal fans gathered to say last good-bye to him, while at the same time thousands were celebrating the same event at their homes.