Ylivieska
Jump to navigation
Jump to search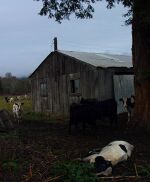 "Driving a car in Ylivieska is a Mission Impossible or Risky Business."
Ylivieska is a city built to a middle of a big field. It is sure that it isn't the capital city of Finland, some doubt that it's a part of Finland at all. No one knows who was the founding father of this city, but most think he's Juha Kärkkäinen. Juha is wealthier than Donald Trump. Atleast he must be, as he built the city in a field.
Sightseeing
[
edit
]
The biggest thing in Ylivieska is ISO Kärkkäinen, which is a huge shopping center. It has made the people of Ylivieska angry. Most of them think that constructing a building of that size, without any cows inside whatsoever, is a waste of space and time.
Economical and geographical differences
[
edit
]
In the middle of the city streams river Fish (Kalajoki). It slices Ylivieska to two sections, Westside and Eastside. Westside is Ylivieska's problem area. Most of the poor and most of the rich people live there. Economic differences are so big, that every third month there are big gang wars (see gang bang). Problems are solved with sharp sticks, cavalry and axes. Some of the rich people have longbows, but there are more poor people. This makes fighting equal and never-ending.
People on the Eastside are either lazy or stupid, so they don't give a rat's ass what happens on the Westside. That's why all the bars and liquor stores are located there.
Besides farming, there are lots of Used-Car-Markets in Ylivieska. The Eastside of Ylivieska is almost fully populated by Car salesmen. Most of them are local celebrities like Antti Roiko Antti, Magnús Ver Magnússon, Oscar Wilde, Kim Wilde and Matti Nykänen.
Two guys from Ylivieska invented something, that has something to do with grain (maybe beer, dunno..)
Very old bridge goes over Kalajoki. This bridge is the shortest way from Westside to Eastside bars. No cars are allowed on this bridge, but that's not a problem, because everyone use horses.
One of Finnish presidents, was born in Ylivieska (nope, he wasn't Urho Kekkonen)
Oh yeah, this president-guy was Kyösti The Rock
There are few beautiful girls in Ylivieska, but that's not a problem, because everyone use horses.