Wheeling Jesuit University/Groups/Bookstore of the People
Jump to navigation
Jump to search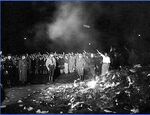 The Bookstore of the People is Wheeling Jesuit University's own company-run superstore. It is located in the Swint Hall Annex and is currently serving under the leadership of The Sons of The Civitan club. Its unique power lies in its ability to ignore any and all market forces in the entire universe.
In AD 2101 war was beginning...
[
edit
]
The Bookstore of the People has undergone numerous changes in ownership, yet its mission remains the same - sell things at ridiculous prices then buy them back for next to nothing or to exchange sold books for something of lesser or more lesser value, even if the student has a receipt. Basically, their store policy is "We hate students". It was later amended to say "We hate students...and lots of other people as well".
There once was a man from Nantucket
[
edit
]
Founded after the great fire of 1064, the Bookstore of the People was part of the grand reconstruction scheme undertaken by the Dschinghis Khan protectorate to re-educate the people and to sell over priced books for single use only classes. However, with the fall of the Dschinghis Khan protectorate, Jesuit Emperor Fed Acker Huang abandoned all other projects related to the re-building and instead built the Domus Aurea of Wheeling Jesuit University, the Acker Science Center.
While being a potential help to the inmates of WJU, Fed Acker Huang saw to it that all object of any potential use, for either self-betterment or escape, were to be double their value and that any object of any critical importance would be at least a month or more over due. This was accomplished by arranging shipments of books and materials to pass through several other dimensions before reaching campus and by staffing the Bookstore of the People with clones of Dear Leader, Kim Jong Il. However even Fed Acker Huang could only tolerate Dear Leader for so long, so the store is staffed by the undead and the occasional bear.
To Better Serve Our Customers
[
edit
]
In recent years the Bookstore of the People, by order of Comrade Stalin, has undertaken propaganda campaigned to try and drum up support. While only slightly successful, the results are being disputed as all the students who fell for the ads had their frontal lobes removed.