UnPoetia:Tower crane
Jump to navigation
Jump to search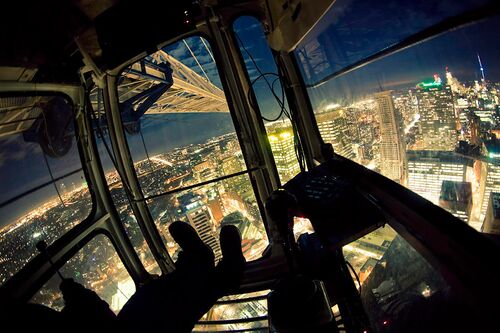 It's a long way up the tower crane,
Hope I'm not hit by an aeroplane.
Look, the Foreman's back again,
A brutal git, with half a brain.

Left my lunch box in the car.
All I have is a chocolate bar,
And a Pepperami, from the Spar.
As meal-breaks go, it's under par.

This lever here is to luff,
The rest are slewing and other stuff,
The tugger motor's running rough,
The maintainer quit, he'd had enough.

Safety's here, in his day-glo jacket,
Left the army 'cos he couldn't hack it.
Got himself into quite the racket,
A company car and fat pay packet.

Foreman's angry, see the riggers scatter?
Don't know what the fuck's the matter.
Perhaps someone said he's getting fatter,
He's never one for idle patter.

Nope, Safety's said we must delay,
This ain't the worst he'll get today,
Everything's in disarray.
I'm staying right here, out the way,

I've never liked working at height,
But better here than among that shite,
In fact it's pretty overnight,
All things considered, the job's alright.

The load is slung it looks legit,
The banksman's ready to commit,
But they're going to have to wait a bit,
I'm heading down, I need a shit.