UnBooks:My Last Name is a Woman's First Name
Jump to navigation
Jump to search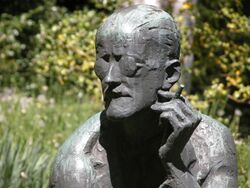 "Pure drivel. I've written Post-It Notes that had more literary value than this."

~ Herbert Marcuse on My Last Name is a Woman's First Name
My Last Name is a Woman's First Name is an unfinished novel by James Joyce. It is easily the most readable of Joyce's works and perhaps his most autobiographical. Most students enjoy reading it because they do not suffer the huge migraines which inevitably accompany a reading of Ulysses or Finnegan's Wake. It is precisely for this reason that the critics hate it, because it has a distinct storyline and has comprehendible characters that do not take on a huge, metaphysical significance. Joyce admitted in his diaries around this period that "I have become a rather pretentious prat". It is unusual for its very small main body (like Joyce himself), and its copious footnotes, though some, like Vladimir Nabokov have suggested that the story is readable without the footnotes (in the same way that intercourse is possible, though a little arid, without foreplay) though there have been many fights in Literature departments the world over about this.
The footnotes are Joyce's own. It is argued that Joyce's book started a dubious trend where postmodernist professors would dazzle their dilletant followers with a dizzying number of footnotes in their dense texts, usually to distract the reader from the fact that the main text is actually a load of nonsense. But as we see with Joyce, the main body contains a story of beguiling complexity and tantalizing plotlines.
Part One – The Artist Encounters a Great Problem of Immense Visual Difficulty And Then Follows It Up With A Deep Reflection Upon Personal Identity
[
edit
]
'Where's[1] me[2] glasses', I stated.[3] 'Where are your goddamn[4]glasses?' she retorted 'Where are my[5] goddamn green glasses?' I repeated 'There's your green glasses!' she bleated. Then, she pointed to a table with a lampshade.
'I might change my name to Joyce Joyce. Damn, that was my mother's name. I wonder if Freud[6]would have anything to say about that!'[7]