Sesame Cops
Jump to navigation
Jump to search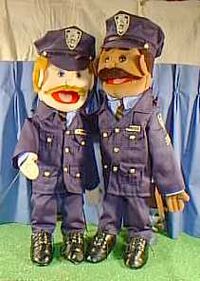 Sesame Cops is an American hour-long children's reality television program premiered on PBS on March 11, 1989, with a pilot episode bring released in 1988. In each episode, human Sesame Street characters go on patrol, as they put Sesame Street Muppets and children behind bars. Created by Joan Ganz Cooney, Malcolm Barbour, and John Langley. It does not consist of any narration, music, and scripts, just the commentary on the kids, as well as Sesame Street Muppets, along with human Sesame Street characters, such as Luis (Emilo Delgado), Maria (Sonia Manzano), Gordon (Roscoe Orman), Susan (Loretta Long), Gina (Alison Bartlett), and Bob (Bob McGrath).
"Bad kids, bad kids, whatcha gonna do, whatcha gonna do when they come for you?"

~ "Cops" on Sesame Street
Cameras catch police in action, as they put Sesame Street Muppets behind bars. They had to put their hands behind their backs with their handcuffs, rather than shooting, as well as fighting and forcing. The show took place on the Sesame Street set, as Muppets are getting in trouble, along with commentary from human Sesame Street characters. Each episode began with the disclaimer before the opening credits are shown: "Due to the graphic nature on Sesame Street, viewer discretion is advised". In season 29, this was changed to "THIS PROGRAM CONTAINS SCENES OF VIOLENCE. VIEWER DISCRETION IS HEAVILY ADVISED." Following that, the show's theme song "Bad Kids" is heard over footage of children playing.
The cops, presumably, represent the long arm of a puppet state government, much like those of the former Soviet bloc.
Theme song
[
edit
]
The show's theme song is "Bad Kids", written by Ian Lewis, and sung by Cody Marshall. All episodes of Sesame Cops begin with the disclaimer, which was introduced in season 3: "Sesame Cops is taped on location with the men and women of Sesame Street. All Muppets are innocent until proven guilty in a court of law". For the first two seasons, the episodes opened with: "Sesame Cops is taped on location as it happens. All Muppets are considered innocent until proven guilty in a court of law". Each episode ended with a police radio excerpt, followed by an instrumental version of "Bad Kids" as the credits rolled.
See also
[
edit
]