Ramiele Malubay
Jump to navigation
Jump to search
Ramiele Macrohon Lullaby (born September 6, 1987), also known as Ramiele, is a Filipino-American singer and the first ever midget on the seventh season of the television series American Idol.
She is mostly known for her HUGE voice and her way of saying "thank you" that out-cutes a pile of kittens. Also called "Rami-yell" for her shouting method of singing and "Ramali" by the judges who don't give a fuck about her name, Ramiele is also known for having armpits darker than Fantasia Barrino's face. Despite this, one of her favorite hobbies is getting her armpits licked and cummed upon. She enjoys crying and speaking in a baby voice to make her horrible singing voice better in comparison. But in truth, this pocket rocket is a fuck doll that can go all night long.
Performing
[
edit
]
Audition
[
edit
]
Ramiele auditioned twice, the first during Season 6. Simon called her out on her lack of confidence and then sent her packing.
"I only like blonde white girls with boobs, and she was -1 out of 3!"

~ Simon
Her second audition came in Season 7, putting Simon to sleep deliberately with a lullaby so she wouldn't have to deal with him, Then before Randy could say anything, she gave her real audition of "Natural Woman".
"...huh? Whoa...Sorry."

~ Randy Jackson on Almost falling asleep too
Randy later admitted to her that "You definitely got a big voice for a very cute, smaller girl." It makes sense, considering that the judges started using ear protection after the Top 24 performances.
Performances
[
edit
]
Her performances on Idol weren't much to speak of between Top 24 and Top 12. One notable performance was before the eleminations to the Top 12, singing "LOOK AT ME NOW". In the very next performance, she tried to follow Chekieze's roof-raising act, but it was like the crash after sniffing crack. She escaped elimination because the producers had to get rid of a gay stripper, David Hernandez.
Relation to Eliminations
[
edit
]
Ramiele cried a lot when people got voted off, especially Danny Noriega, one of her most annoying habits when she was on the show. American Idol pointed out the BAWWWing, which steadily built up until after the Top 12 eliminations, at which point the Idol stage turned steel-gray and emo with all the sadness. Ryan passed the transformation off as construction worked on since the last show. Some even say that she was voted out of the show because of crying her eyes out all the time.
Copycats
[
edit
]
Avid American idol watchers might have noticed that Syesha, Asia'h and Alexandrea were like the same person. The clones had to be destroyed, so Ramiele and Syesha went Majin Buu on Asiah (NO APOSTROPHE FOR YOU) and Alexandrea, disrespectively. After assimilating their singing talent, Ramiele tried to absorb Syesha, but then they had a Dragonball-Z-style fight, which the prooducers used as filler material for their long episodes.
Minor Scandals
[
edit
]
Who's shorter?
[
edit
]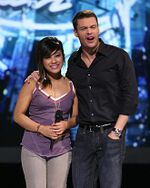 Since Ryan likes to make jokes about being shorter than everyone else, he got upset when Ramiele made it into the Top 24. He kept getting into pissy-fits which he blew off on Simon, who then started picking on Ramiele's performances so Ryan would stop.
"I was bored to tears throughout the entire song."

~ Simon on Top 12 performances
"Now, will you stop pestering me?"

~ Simon, whispering to Ryan
Unfortunately, no one cared about what Simon wanted, and the taunting continued.
Boobies!?
[
edit
]
Minor controversy appeared when two images leaked of Ramiele's friends groping her. Producers of American Idol claimed that they didn't want another minority group--they liked Chekieze more--and told her "TITS OR GTFO". Ramiele chose option #1, and Ryan cried.